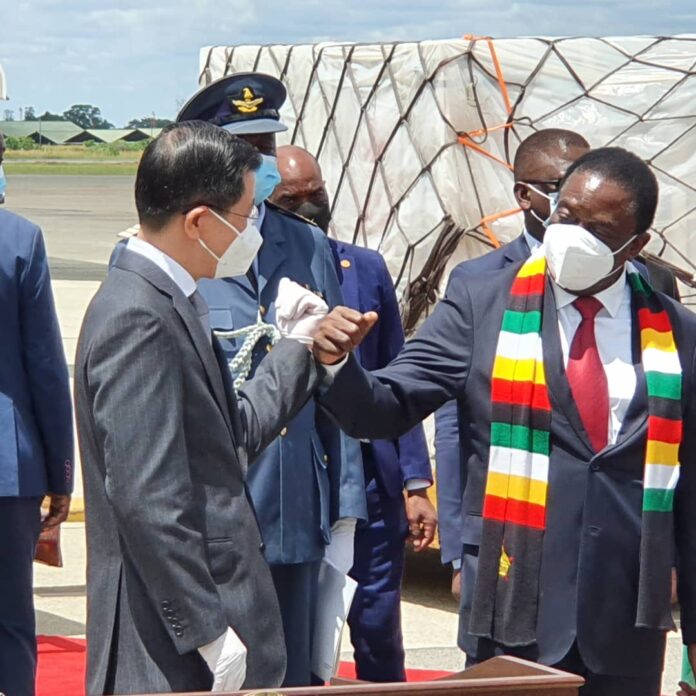 Davison Kaiyo
HARARE – Zimbabwe has launched its first ever Information Communication Technology (ICT) Device Factory, which will see the country manufacture and assemble laptops, desktop computers ICT devices with 150 000 units expected to be produced annually for both local and export markets.
The ICT devices which will be assembled under the Infinity brand, are as a result of a joint venture company, the Zimbabwe Information Technology Company (ZITCO) a partnership between the Office of the President and Cabinet (OPC), Telone and a Chinese technology company, Inspur Group. طاولة31
Officially launching the ICT device factory on Wednesday in Harare, the President Emmerson Mnangagwa, said the ZITCO will not only ease the demand of ICT devices in the country but will also enable modernization and automation of local systems nudging the country a step towards complete digitalization. The World Bank reports that ICT imports make up to over 2. نادي مان سيتي 3% of the country's imports
"The National ICT device factory dovetails with the government's ongoing innovation, science and technology development thrust and proves that ICT devices can indeed be produced locally,
"The facility will further help to promote technology transfer, foster human capital development, enhance import substitution and create robust platforms upon which innovations and designs can be commercialized," said President Mnangagwa.
He also challenged stakeholders in the ICT sector to be more proactive by pursuing strategies, projects and programmes that will see Zimbabwe evolving into an ICT manufacturing hub for a broad array of more complex components such as semi-conductors and computer chips.
"The local production of hardware triggers demand for the development of complementary software packages. We must, therefore, intensify our national efforts to develop software, riding on the abundant intellectual capacity available in the country."
The President also said innovation hubs and industrial parks in institutions of higher learning are encouraged to speedily develop appropriate solutions and applications towards the growth of a big data economy in tandem with expectations of the fourth industrial revolution.
He also roped in the private sector saying it should explore robust synergies within the ICT sector by harnessing the existing capacity skilled human capital.
"As such, more resources must be set aside for research and development, innovations, inventions, as well as the commercialization and manufacturing of key ICT components and equipment."
The President similarly tasked government ministries, departments and agencies to set timeframes for the migration from manual to automated systems.
President Mnangagwa then received and handed over a consignment of 1500 ICT devices purchased by government from ZITCO to the Public Service Commission as the first customer.
The batch comprised of 900 desktops and 600 laptops to be used by civil servants.
Speaking at the same occasion, Information Communication Technology, Postal and Courier Services minister, Jenfran Muswere, said they had crafted policies to develop the ICT sector to comply with the modernisation agenda which is now being pursued by the government.
Muswere said the production of ICT devices locally will enable the generation of skilled labour through coordinated efforts by the ministry of ICT and institutions of higher learning in building and establishing innovation hubs which can then be used by industry to develop and manufacture ICT products.
Chinese Ambassador to Zimbabwe, Guo Shaochun, said the creation of ZITCO attests to good relations between Beijing and Harare.
In her remarks, TelOne chief executive officer, Chipo Mutasa, said the coming to life of ZITCO will create 300 jobs locally and is expected to run three shifts with a annual production of 150 000 gadgets and is part of the company's turnaround strategy.
"The request by OPC to work with TelOne was timeous as it came when we were already in the process of seeking out ways to resuscitate this factory. جدول مباريات كأس العالم للأندية 2023
"As we endeavour to modernise, we had embarked upon a number of initiatives to resuscitate the factory. The coming to life of the ZITCO Assembly Plant thus has been a perfect launch pad for this strategic initiative," she said