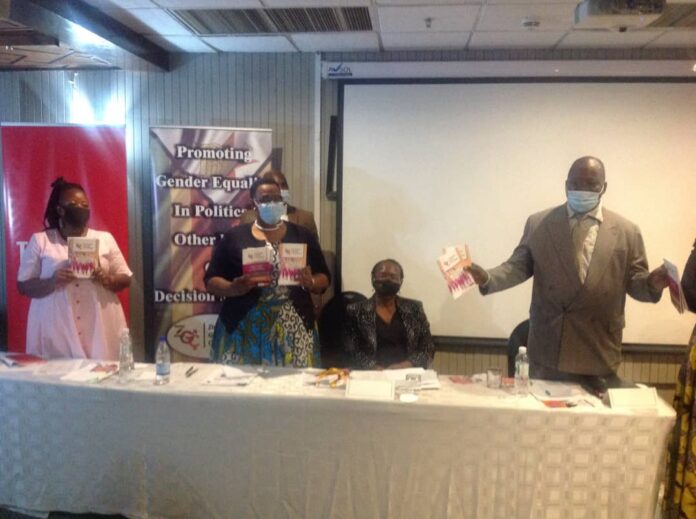 Munyaradzi Doma
Women occupying leadership positions should advocate for gender parity, failure of which will render Zimbabwe's goal for 50/50 representation a dream that will not come true, Women's Coalition of Zimbabwe National vice chairperson Rejoice Nharaunda-Makawa has said.
Speaking at the launch of the Gender Audit Report of Main Political Parties Zimbabwe and Model Gender Policy in Harare, Nharaunda-Makawa said in most cases, women who assume leadership roles forget the need to have fair representation once they personally have made it.
The reports were launched by the Zimbabwe Gender Commission and was funded by HiVOS under the Women Empowered for Leadership programme.
"We always pose a question to the (women) leaders that are ahead of us, that are sitting in these spaces on whether they are doing enough to advocate for more women or kana tangosvika paye paye, tagara, we forget that there are other women that are capable, that are out there.
"So it's a call to the women in leadership positions to make space for other women, for younger women because that's who we are and that's where we are headed," she said.
She said global figures for women representation in parliaments, standing at 24 percent, are worrying, adding that it was sad that Zimbabwe had also failed to attain 50/50 representation of women in decision making positions despite the country being a signatory to many declarations.
"The doctrines of democratic governance and human rights are premised on the notion of equal participation by all citizens in any country and this is why it is important for women to have equal and meaningful representation and participation in all facets of governance.
"Besides, women constitute more than half of the world's population, yet their participation in electoral and governance processes – where decisions regarding their lives are made – remains peripheral in many countries including the motherland. فيلم اجنبى قطار 777 كامل مترجم
"In addition to having a legal framework that values gender equality and equity in politics, Zimbabwe is a signatory to many declarations aimed at increasing women's leadership and decision-making opportunities, for example, Article 12 of the SADC Gender Protocol which calls for a 50 percent threshold of women in decision making positions."
Zimbabwe has just 31.4 percent female representation in the National Assembly with the figure reflecting the intersection of political participation and gender inequality in the country.
Senate president Mabel Chinomona, who was representing Zanu-PF, said the ruling party had made strides to ensure gender equality although more needs to be done.
"The Zanu-PF Women's League is of the view that the country's electoral laws require immediate attention to promote gender equality and equity.
"To achieve gender equality political parties should be compelled to use the zebra system to select candidates during elections," Chinamona said.
"The act might require some amendments in order to compel the registered political parties to make sure that at any level of the party, there is a gender equality clause and there should be punitive measures for the parties that fail to comply."
She said in political parties, men did not trust having women in leadership positions and it was a general feeling that women candidates would not win against their male counterparts.
MDC Alliance secretary for international relations Gladys Hlatywayo said they had gone a long way to ensure gender parity in their party with a 50 percent women representation in the youth management committee.
The party also has a 40 percent women representation in the national standing committee, 40 percent representation in the national executive and a female vice president Lynette Karenyi-Kore. viagra doliprane
"Participation of women in politics is central to the democratic development of any society. العاب شيش Women participation in the political sphere is also pivotal to the realisation of the Sustainable Development Goals and in particular SDG 5 on gender equality," she said.
Representing the MDC-T, Gift Chimanikire from the MDC T said although gender parity was covered by law, the implementation has been absent.
"Our problem is while we have good legislation, it is the implementation that is lacking. So I think those in Parliament should ensure that we do align the laws with the provisions that we have in the Constitution," he said. من هو ليونيل ميسي
Zimbabwe Gender Commission chairperson Margret Mukahanana-Sangarwe said the objectives of the gender audit report were to influence reform of political party constitutions and policies towards gender parity in outcomes.
She said despite the fact that women make up 52 percent of the population, out of the 1 652 candidates for the 2018 elections, only 243 were women translating to 15 percent.
For local authorities, women only made 17 percent of the candidates.