HARARE – Month on month inflation continued its gradual deceleration in September, falling to 17.7% from 18.07% reported at the close of August. Meanwhile the implied annual inflation rate now stands at 353% from 289% at the end of the previous month.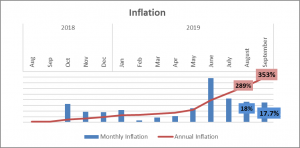 The ZimStat CPI index is derived from multiple weighted baskets that track the prices of food and non-alcoholic beverages, alcoholic beverages, transport, health among others. According to the rebased data from Zimstat, which was collected between 11 and 17 September. ازاى اكسب فلوس من النت Looking ahead, expectations are for an increase in inflationary pressures to reflect in the upcoming inflation figures as the effect of the 320% electricity tariff hike takes hold. Further to that, the sharp parallel market exchange rate devaluation has reportedly prompted local operators to adopt a forward pricing strategy with rates allegedly as high as 1:25. تاريخ كريستيانو رونالدو  
In response to the rising tide of inflation, the Public Accountants and Auditors Board (PAAB), moved to recommend the implementation of inflation adjusted financial statements for reporting periods dated 1 July 2019 onwards. Several listed companies have already delayed the release of the results, citing the challenge of accurately reporting in the current economic environment and move from PAAB will likely prompt further delays.
Food and non-alcoholic beverages carries the highest weighting at 31.3% in the Zimstat CPI basket segments and according to the statistics prices rose 19.5% in September to leave the year to date inflation for the segment at 251%. Among the food items surveyed oils and fats products rose the highest during the month at 24.86%. Meat prices rose 22.17%, bread and cereals rose 24.78%, vegetable prices increased 12. كيف تربح المال بسرعة 29% and sugar related products prices shot up 18.04% for the month. Meanwhile Non-food items, were up 16.63%, with the year to date inflation at 163%.
Housing, water, electricity, gas and fuels accounts for 27.62% of the CPI basket. According to the Zimstat statistics, cost related to the category rose by15.52% leaving year to date inflation at 79%. The main driver for inflation in the segment was a 25% rise in the price actual rentals for housing. Meanwhile liquid fuels increased by 12.30% to leave the year to date inflation at 158%. jackpotcity
Health accounts for 1.42% of the CPI basket and related prices rose the by 18.68% in September leaving year to date inflation for the category at 284%. Among the specific health related costs surveyed, para-medical services rose the highest at 58% while pharmaceuticals rose 16. سلوتس 1% during the month.
 
Transport related costs account for 8.4% of the CPI basket and monthly inflation for the category was at 16.83%, with the price of passenger transport up by 2.48%. The year to date inflation for the category is at 244% with passenger transport year to date inflation quoted at 359%.
Costs related to insurance products were the highest risers during the month, with the cost of medical contributions rising by 96.52%, leaving the year to date inflation at 493%. بطولات السيتي Similarly, the cost of car insurance rose sharply by 138% in September, with the year to date inflation rising to 904%. – FinX