Staff Writer
The Zimbabwe Human Rights (ZHR) has blasted the Zimbabwe Republic Police (ZRP) and Zimbabwe National Army (ZNA) for being partisan and perpetrating gross human
rights violations in the country.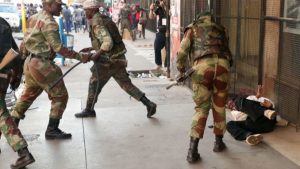 This puts a huge dent on President Emmerson Mnangagwa's administration, which is currently pursuing  global re-engagement exercise to normalize Zimbabwe's relations with the rest of the world and attract capital.
In the 2018 State of Human Rights Report, launched released yesterday at Alliance Francaise, ZHR said the security sector has been fostering serious human rights abuse.
"The police and army must not be partisan and must desist from violating human rights. More than necessary and justifiable and more than enough, officers in the security services have been primary culprits of human rights abuses. ألعاب لربح المال الحقيقي 2024 The army has no role in arresting and detaining civilians, including incommunicado detentions," ZHR said.
The report  cites several arrests of members of the opposition party that include the party vice president Tendai Biti, organizing secretary Amos Chibaya among others. price of ivermectin in sa
"The army continued to arrest and detain people, despite lacking a constitutional mandate to do so. Local media and NGOs reported that plain-clothed state security agents abducted MDC Alliance Information and Public Secretary Simbarashe Mujeye and his brother from their Chitungwiza home on 2 August 2018," ZHR said, adding "the agents handcuffed and beat him while demanding to know the whereabouts of senior MDC leaders. The men then took Mujeye to Harare Central Police station on charges of inciting public violence. قواعد البوكر "
The document made further reference  to the August 1 skirmishes where soldiers moved around suburbs of Harare and Chitungwiza between beating supporters of the opposition MDC Alliance, firing gunshots outside the homes of its MPs and sealing off the homes of leaders' families.
"There were reports of impunity involving the security forces during the year. For example, the government did not hold accountable members of the police who killed two civilians during a protest in Harare on 22 February 2018. ivermectin for rosacea dosage ون كارد مجانا Several detentions were unlawful. In some cases, security forces arbitrarily arrested journalists and political and
civil society activists, and then released them without charge," ZHR added.
It further lambasted the police for making people 'enemies of the state' by beating them and harassing them.
"Several arrested individuals were assaulted and tortured by the police at the point of arrest. Authorities often did not allow detainees prompt or regular access to their lawyers and often informed lawyers who attempted to visit their clients that detainees or those with authority to grant access were unavailable. kepromec ivermectin This was especially in respect of people seen as "enemies of the State". The government also monitored, harassed, and intimidated human rights lawyers when they attempted to gain access to their clients."