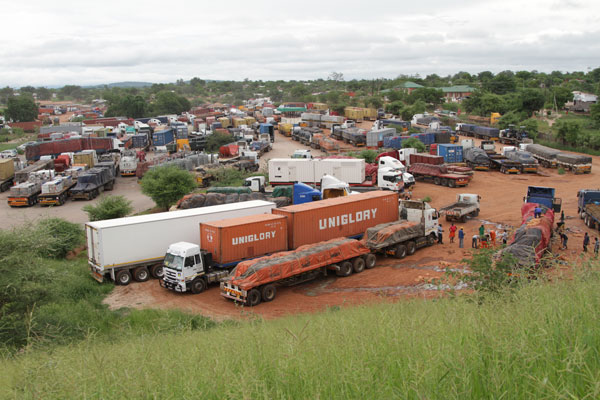 Sydney Kawadza
Zimbabwe could lose considerable revenue at the Chirundu One Stop Border Post due to the chaotic scenes that continue dogging the clearance of transit cargo with transporters seriously considering using the recently commissioned Kazungula Border Post.
Intermittent disorder, high clearance costs and long queues leading to delays have been identified as some of the challenges that have been associated with the border post linking Zimbabwe and South Africa to the northern routes into Africa. نادي بروسيا دورتموند
Chirundu handles cargo from South Africa, the Democratic Republic of Congo, Tanzania and Mozambique.
It has also been a preferred route for cargo, especially fuel, for Mozambique while freight from South Africa passes through the border post going north as a shorter passage way. اللاعب هازارد
Investigations by The Anchor recently revealed that most transporters and truck drivers were being disheartened by the chaos that has become a regular occurrence at the border post.
Trucks were piling up at the Zambian side with the queue stretching for more than four kilometres as transporters battled to clear their transit cargo.
The Zambian side of Chirundu has more than 15 truck stops which were struggling to accommodate the incoming traffic.
The truckers insisted that the situation had escalated when the Zimbabwe Revenue Authority introduced the Electronic Cargo Tracking System insisting that all transit cargo should be fitted with electronic seals.
"It costs about US$30 to have the electronic seals fitted and ZIMRA officials are adamant that no truck would be allowed into Zimbabwe without the seals. This directive is affecting transporters especially those with perishable goods such as sugar," one of the transporters said. اسماء العاب الكازينو
A truck driver said transit cargo heading for South Africa and Mozambique has been heavily affected by the directive. btfnl
"We have transit cargo, especially copper trucks going to South Africa with the commodity headed for China, Europe and other Western markets but it ends up being held up at Chirundu as Zimbabwean authorities insist that we pay for the electronic seals," he said.
A clearing agent based at Chirundu, Nation Mawere, also bemoaned the added costs for cargo to pass through Zimbabwe.
"Each truck is charged US$30 for the electronic seals and this is going to affect traffic going into Zimbabwe through Chirundu because it is becoming expensive to use the route.
"Truckers pay US$100 for a Vehicle Inspection Department coupon and now ZIMRA is demanding US$30 for the electronic seals. To top it up truckers are forced to pay at the several road blocks that are on our roads.
"The expenses will definitely force transporters to opt for the recently commissioned Kazungula Border Post although many consider it to be a longer route to South Africa," he said.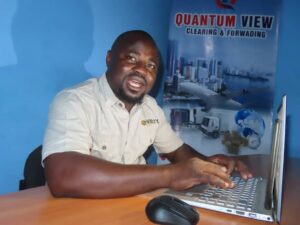 Observers have also called for Zimbabwean authorities to consider other alternatives to salvage business and revenue from Chirundu One Stop Border Post.
"It is high time government takes into serious consideration programmes that should save possible revenue losses by addressing some of the challenges that have been highlighted for many years," they said.
"Kazungula One Stop Border Post poses a huge threat to Zimbabwe's revenue because of the similar facilities to Chirundu Border so it has become a threat to the preference given on the Zimbabwean route."
However, ZIMRA spokesperson Francis Chimhanda said the electronic seals were not new at Chirundu or any borders in Zimbabwe.
"This is not the first time that transit cargo entering Zimbabwe through Chirundu has been sealed. nice fc Electronic sealing of goods in transit was introduced in 2017 through promulgation of Statutory Instrument 113 of 2017, which provides for the sealing of all goods in transit under the Electronic Cargo Tracking System (ECTS).
"Public notices and stakeholder engagement initiatives were conducted to create awareness, including a public commissioning of the project by Government which was attended by stakeholders involved in the goods supply chain industry," he said.
Chimhanda said electronic sealing of cargo was meant to secure goods in transit to safe guard revenue.
"Goods in transit are not subject to duties and taxes and sealing enables ZIMRA to monitor, track and trace goods in transit to curb transit fraud.
"Electronic sealing of cargo is a trade facilitation measure meant to facilitate the release of goods in transit without delay."
Cargo selected for sealing is released immediately and is not subjected to physical examination, thereby limiting the time the cargo spends within ZIMRA premises before release to continue the transit journey, he added.
"The charge levied for the electronic seal is a statutory requirement in terms of the aforementioned statutory instrument. العاب بطاقات   This is government policy which ZIMRA implements in terms of that legislation," Chimhanda said.
Electronic seals enable ZIMRA to track and trace the movement of transit cargo from the port of entry to the port of exit using the Global Positioning System (GPS).
"This ensures that all transit cargo exits Zimbabwe or if it does not, it can be traced for the recovery of revenues due. In that regard, sealing prevents the dumping of goods from which duties and taxes have not been paid. The Electronic Cargo Tracking System is thus designed to curb transit fraud and prevent revenue leakage," the ZIMRA spokesperson said.
He, however, said there was need for a comprehensive study to assess the impact of the of the electronic seals on ZIMRA operations at the borders across Zimbabwe.
Chirundu One Stop Border Post programme was initiated by the Common Market for Eastern and Southern Africa (COMESA) bloc and it was launched in 2009 with the aim of meeting international border management standards.
An agreement to run the border post was signed by the Governments of Zimbabwe and Zambia in 2009.
The Kazungula Bridge project began in October 2014 and is a partnership between Zambia and Botswana.
Zimbabwe declined to be part of the US$30 million project during the former President Robert Mugabe's administration.