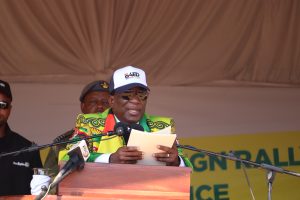 President Emmerson Mnangagwa lauded the local business community for its contribution to assisting the government spur economic growth through development plans like the National Development Strategy 1.
Speaking at a Zanu PF star rally in Harare, Mnangagwa said that despite the many shocks, Zimbabwe's economy has moved from recovery to growth.
According to him, the mining, manufacturing, construction, and tourist industries were the foundation for the growth trajectory.
"Every person and organisation has a responsibility to defend our economy against saboteurs and currency manipulators," said Mnangagwa
Local companies are resuscitating and expanding their operations to meet the regional demand. In the past nine months local manufactured goods have increased by 80% on the local market as compared to the imports.
The Zanu PF leader said the country received US$1.5 billion from China that was used to improve the electricity generation in the country.
"Last week we commissioned Hwange 7 and 8 thermal power station that added 600 MW to the national grid," said Mnangagwa.
The President said the country is now food secure.
"We are in our third year of experiencing food security and we are confident that even in the event of climate change-induced drought, we will not experience food shortages as we have built dams for irrigation," said the President.