Tawanda Marwizi
President Mnangagwa was forced into a cabinet reshuffle last week to handle emerging ethnic divisions being used by rival factions in the ruling Zanu-PF, it has emerged.
Impeccable sources say concerns have been growing around Mnangagwa's Cabinet being dominated by the Karanga tribe, an ethnic group from the South-Western and Midlands regions of Zimbabwe; his village of origin. This has riled party members from the Zezuru' of the Mashonaland region and the Manyika.
The Karanga-dominated cabinet, the sources said, was glaringly skewed against Vice President Constantino Chiwenga, forcing Mnangagwa into a reshuffle to douse the factional flames now threatening the party.
Chiwenga is believed to still have a lot of influence in the army while his recovery and subsequent return is expected to shake the country as he is largely expected to assert his authority.
From Mashonaland East, notable names include Murehwa North legislator Daniel Garwe, who was appointed to the newly created National Housing and Social Amenities portfolio.  Others included are Tinomuda Machakaire, the Wedza South legislator, who was appointed Youth, Sport, Arts and Recreation deputy minister while former resident minister David Musabayana was appointed Foreign Affairs and International Trade deputy minister.
From Mashonaland West, Zvimba North legislator Marian Chombo was appointed Local Government and Public Works deputy minister. The ministry was for a while headed by her ex-husband  Ignatius Chombo.
Former ICT deputy minister Jenfan Muswere from Manicaland took over the portfolio as a cabinet minister.
A few ministers were moved to different portfolios, with Kazembe Kazembe being promoted to the powerful Home Affairs ministry as the President seeks to protect himself with people who are loyal to him. Kazembe replaced Cain Mathema – who becomes the new minister of Primary and Secondary Education.
Professor Paul Mavhima, who was replaced by Mathema, was moved to the Labour, Social Welfare and Public Works ministry in place of Sekai Nzenza who was moved to the Industry and Commerce ministry.
Former Industry and Commerce minister Mangaliso Ndlovu was moved to the Environment, Tourism and Hospitality Industry portfolio.
Meanwhile, political analysts have expressed mixed feelings over President Mnangagwa's first-ever cabinet reshuffle after he took over from Robert Mugabe.
Political analyst Eldred Masunungure said the President simply killed talk around one ethnic group's dominance in the cabinet. "He is just pre-empting the return of Vice President Chiwenga… He just addressed the issue of ethnic competition that was being used by his political opponents within Zanu-PF. There is nothing new in that cabinet," he said.
He said the President forgot to deal with economic issues which is the biggest challenge he faces currently.  "He might have been successful in dealing with ethnic problems but the economy remains his major problem," he said.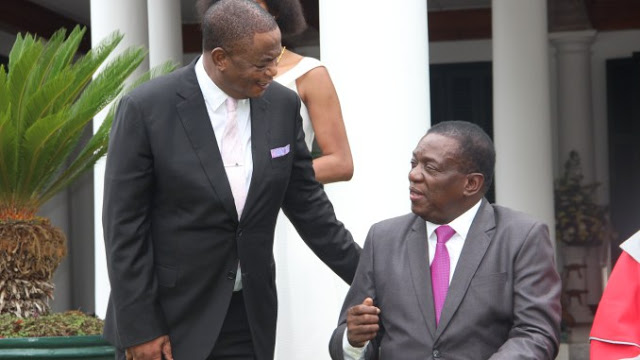 University of Zimbabwe lecturer  Lawrence Mhandara said it was President ED's prerogative to make changes to the cabinet to suit his vision. "I will take it from a public policy perspective. Every leader is bound to make changes in line with his vision.  We cannot rule out political issues but that will be speculative because we don't really know the internal issues.
"Remember the Cabinet was appointed about a year ago so he knows their strength and weaknesses. He knows the members better. In my view everything is justified and he did that in line with his vision," he said.
Another political analyst Goodwine Mureriwa said there Cabinet now has a good fusion between young blood and the old guard as the President tries to achieve his 2030 vision."If you see there are new faces, particularly the youth, and the President here is trying to fuse old blood and new blood.
Other deputy ministers appointed include Jenipher Mhlanga who was moved from Local Government and Public Works to Women Affairs, Community, Small and Medium Enterprise Development while Yeukai Simbanegavi was moved from the Youth, Sports, Art and Recreation to become National Housing and Social Amenities as deputy minister.
Dingumuzi Phuti was appointed ICT deputy minister while Raymond Machingura was appointed deputy minister in the Ministry Higher and Tertiary Education, Innovation, Science and Technology Development.
Clemence Chiduwa was appointed Finance and Economic Development deputy minister.