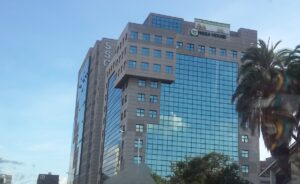 Harare – State-run pension fund—National Social Security Authority has suspended its Director Investments Brian Mrewa on allegations of corruption and fraud.
Sources privy to the on-goings at NSSA told The Anchor that Mrewa was suspended on allegations of being involved in dodgy "scandalous" acquisition of properties by the authority.
"He has been accused of engaging in dubious transactions especially when it comes to buying properties," said a source
NSSA acting manager, Charles Shava could neither confirm nor deny the suspension.
"I can't talk about the employment status of the director with third parties, I don't have that mandate," Shava said.
In June last year, NSSA suspended General Manager Arthur Manase on allegations of corruption and Shava was appointed to act as the head of the state institution.
Last month, Vice President Constantino Chiwenga stopped NSSA from implementing a rotational policy of filling the vacant post of general manager by blocking the recent appointment of Agnes Masiiwa.
NSSA Director for Occupational Health, Shava was the first to be appointed as acting General Manager and he was supposed to pass the button to Masiiwa following his appointment by the Nssa board.
On December 29, Public Service, Labour, and Social Welfare minister Paul Mavima wrote to NSSA board chairperson Percy Toriro recommending Masiiwa to replace Shava. But the VP allegedly reversed the appointment of Masiiwa as the acting GM.