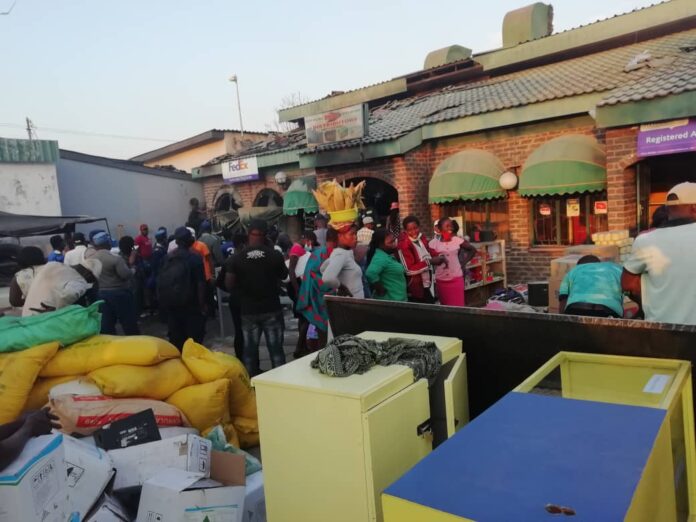 Nhau Mangirazi
The fire that gutted a complex housing small-to-media enterprises destroy goods worth thousands of United State dollars on Tuesday this week, was caused by human error, preliminary investigations have revealed.
According to a report by Zimbabwe Electricity Distribution Company officials, an individual left an electrical appliance which was not switched off sparked the fire.
Property owner Nevvison Mabhonga confirmed the results to The Anchor. لعبة روليت اون لاين
"Primary investigations done so far have revealed that someone mistakenly left a plug on and this could have sparked the fire.
"Official investigations revealed that the fire did not start from the building main electricity distribution areas. It was human error," he said.
Evaluators are still working on to establish how much damage was done to the building popularly known as Superbake.
The building was formally known as Country Fresh.
Mabhonga, who is a farmer, was notified of the fire incident while he was at his farm about 70 kilometers out of Karoi town.
"The unfortunate incident happened but, Karoi Town Council failed to help the affected during the critical time of need," he said.
At least 55 small-to-medium businesses lost gadgets raging from mobile phones, accessories, laptops, printers and clothes worth hundreds of United States dollars. اون لاين روليت
Mabonga also alleged that some people looted cell-phones, accessories during the incident.
"It is disheartening that some came disguising as helpers but looted some goods including mobile phones and small accessories," he said.
Maltin Makusha representing the affected business people bemoaned council failure to react on time.
"Our council is at fault for failing to provide basic service such as a fire tender. Even the fire department experts never bothered to give a hand yet they collect rates and rentals from us. We are deeply hurt over this infectiveness by our own council," Makusha said.
He called the local authority to make sure they acquire a fire tender urgently. البكرات
"We call upon our policymakers to take responsibility over these deteriorating social justice issues. A fire tender and ambulance are of top priority for an organisation.
"Besides failure to have the equipment, no official bothered to help us with expertise. Council must wake up to the reality of what matters to citizens," he said.
Council chairperson Abel Matsika said they will try to facilitate that the affected get assistance.
"This is an urgent matter that we will need to work on modalities of helping the affected. We will soon be meeting Civil Protection Unit, SMS district officials and other stakeholders to map the way forward and assist those who lost out.
"It is an accident that has exposed council's misplaced priorities and we take the part of the blame to give better services to our residents," he said.
This is the second fire incident to hit Karoi, a town about 200km north-west of Harare, within a week while the obsolete fire tender has been down for two years.
A woman from Chikangwe lost all her belongings following a fire caused by an electrical fault.
Well-wishers are assisting the woman with clothes and food among other for her and her two children.
Residents have also called the council to use its allocations from government's Devolution Fund to acquire a fire tender and ambulance.
Meanwhile, the woman who lost her two children to a veld fire was discharged from Karoi District Holspital on Thursday.
The sad incident occurred at St Michael's Primary School, under Kondo Village, Ward 3 Hurungwe East constituency.
Prisca Chimunhu (34) survived the fire while her children died in the incident.
Another three-year-old child is also nursing injuries from the incident that has gripped farming town of Karoi.
Chimunhu's husband Zanorashe Isiah Musiiwa confirmed the latest development.
"She was discharged from hospital yesterday (Thursday) so that she could attend the burial of our children. She suffered burns on her right palm and around her back as she had tried to rescue our late children from the ravaging fire," he said.
The two girls – aged five and six – were burnt beyond recognition after the house they were in caught fire from a ravaging veld fire.
The ZRP deputy officer commanding Hurungwe district Superintendent Simbarashe Zvidzai confirmed the incident.
"As police we urge members of the public that it is dry season and wind is blowing. People must desist from starting uncontrolled fires while ensuring that homesteads have fire guards," he said.
Supt Zvidzai also issued a stern warning against people who cause veld fires.
According to sources, teachers from the school who used to commute from Karoi town daily, opted to relocate, to cut costs.
The three teachers shared an old farm house building due accommodation shortages at the school and they all lost their belongings in the fire.
The three affected teachers lost their belongings.
Musiiwa and her colleagues – Joseph Mazarura and Levison Chenjerai – lost properties including certificates among other valuables.
Environment Management Agency provincial education and promotions officer Munyaradzi Nhariswa said the fire season has been worse in Hurungwe district within the province.
"As an agency any life lost due to veld fire is unacceptable. Investigations are still in progress although primary investigations are that the fire originated from an open fire that went out of control spreading to surrounding areas.
"This was in clear violation of SI 7 of 2007 that prohibits open fires outside stationed commercial premises during the fire season.
"We continue to remind people not to use open fires for whatever reason including land clearance and fire guard construction," he said.
The fire season started effective on July 31.