HARARE – (FinX) Zimbabwe narrowed its trade deficit in the year to October to US$296.42 million from US$743 million in September after improved exports in October boosted by tobacco and nickel values. The country however still needs to do more to boost its manufactured exports which were at 5% of total exports (in the year to date), if it is to achieve sustained economic growth and job creation. Current reliance on raw exports makes the country a price taker.
Government has already set a target of 30% for manufactured exports by 2023 in its National Trade Policy and Export Strategy based on the notion that the key is value addition of raw materials that are readily available in Zimbabwe especially in the agricultural and mineral sectors. The country's resource endowments dictate the directions of comparative advantage and thus industrial change itself, but challenges remain.
Chief among the challenges is the lack of diversification in the export basket, failure to implement and take advantage of the numerous bilateral and multilateral trade agreements signed with various countries and trade bodies and the current economic environment characterised by high inflation, unstable currency and power and fuel outages has constrained production capacity. The manufacturing sector also suffers from historical imbalances arising from cumulative record of controls, protection, exchange overvaluation, and distorted domestic policies. Summed up; institutional constraints, subsequent trade deficits, trade controls, and biased monetary and fiscal policies created the setting for a protective system conducive to consumer goods industries and finishing stages of production all biased against export industries.
Cumulatively, exports in the period were at $3.6 billion made up of 94% raw exports, 5% manufactured exports and semi manufactured goods at 1%. The country's exports are forecast to end the year around US$4.5 billion, the same as last year. Food and beverages account for 1.91% of total exports and 41.07% of the manufactured goods exports. Processed sugar, cigarettes, fermented tea are the main export drivers for food and beverages with a total of US$11.78 million.
In October exports were up 8.5% year on year to US$483 million while they rose 27.7% from September after increases in the value of tobacco and anomalies or maybe its once-off increases in nickel matte which after two months of nothing suddenly contributed US$59.5 million and some gains on obscure goods such as Washing and Cleaning materials for retail sale which doubled in October to US$377 000.  Of all the manufactured goods exported,  a few products such as cigarettes, cane sugar, fermented black tea, electricity, ginned cotton and airplane and other aircraft parts average over a million US dollars per month with the latter two averaging a million a month for the past four months.
Fuels and gas as well as drugs and pharmaceuticals have barely moved either to the negative or the positive side as they have changed by less than 0.01%, year to date. The countries ability to produce agricultural and horticultural products has been hampered by foreign currency and electricity issues of late with the companies not being able to source raw materials from foreign suppliers which is evident by the 5.03% drop in the exports of the goods. Horticulture produce are on the drop with roses and flowers experiencing a drop of 3.24% in value to US$1.64 million. Cumulatively value is at US$58.02million of 2019 year to date which is a 4.81% decrease from the 2018 figures but 37.7% above the 2017 income.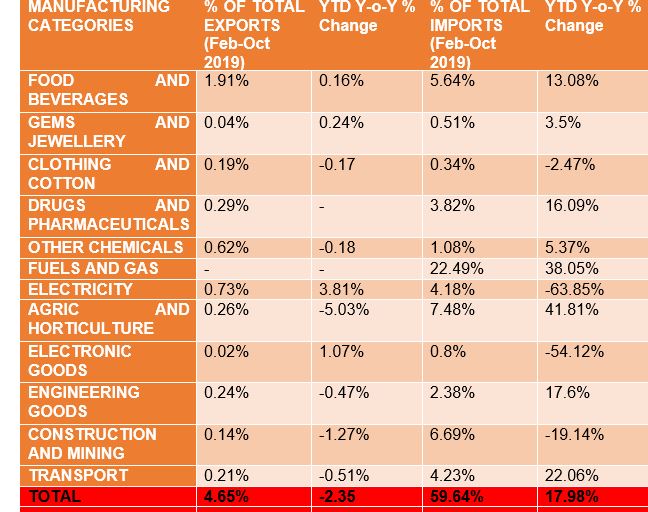 Total imports amounted to $3.9 billion in the ten months to October with an average US$390 million per month with the biggest chunk going to the importation of fuels. In the month of October imports fell by 0.75% to US$400 million and 41.5% year on year from US$5.3 million.  From the table above we can see that manufactured goods imports have increased by 17.98% year to date as local firms have reduced production citing difficulties to procure raw materials and electricity.
With the further problems in electricity generation as a result of poor infrastructure at Hwange which continues to break down and low levels of water in Kariba Dam, the country has increased its electricity imports by 4.18%. With the farming season in full swing the country has scaled up its importation of agriculture inputs as they have increased by 7.48%. Construction vehicles, mining equipment, iron sheets and cement importation has increased the importation of construction equipment to 6.69% year to date.
Imports amounting to US$400.6 million for the month of October were mostly acquired from South Africa amounting to US$175.5 million which adds up to 44% of our imports. Most of these imports are food and beverages as well as clothing goods. 5.64% of total imports are food and beverages which are mainly from South Africa and 22.49% of imports are fuel and gas which are acquired mainly from Singapore which accounts for 19% of total.