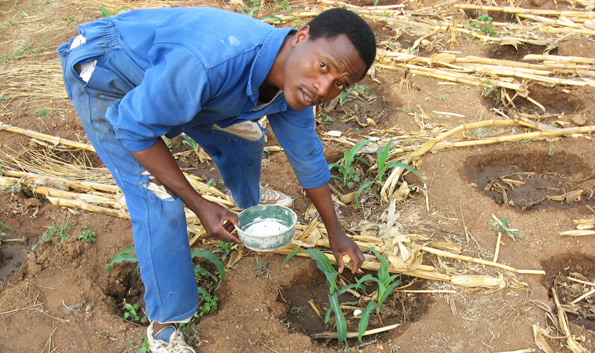 Tawanda Marwizi
Youth in Zimbabwe should participate in the government initiated farming scheme, Pfumvudza, as a way of reducing poverty in communities while avoiding drug-related crimes due to idleness, Youths, Sport, Arts and Culture Deputy Minister Tino Machakaire has said.
He said such schemes would ensure that youths earn a living as well as improve their vocational skills.
Under the concept, communal farmers are required to practice conservation agriculture with the main aim being climate proofing agriculture while utilizing small pieces of land and using correct agronomic practices for higher returns.
Addressing villagers in his Wedza South Constituency recently, Machakaire said the programme would go a long way in alleviating food shortages and poverty in communities ravaged by drought.
"This is an exciting initiative which is set to transform the lives of the country's citizens and we are encouraged by the uptake from the communities," Machakaire said.
The deputy minister, however, noted that the Pfumvudza initiative has been generally accepted by older people than youths.
"Our concern, however, is that for now, it appears it's mostly the older people taking up the initiative and we want to encourage youths, especially those in the rural areas to participate in the programme," he said. طاولة الروليت
"We want youth to find something beneficial to do with their lives and as government we are there to support them along the way. We don't want them to become idle and end up being drug addicts. الاحتمالات في سباق الخيل "
Government's long term plans, Machakaire said, was to build disaster resilient communities adding that youths should participate in these initiatives.
Meanwhile, Machakaire made a commitment to continue assisting the vulnerable with food and he was drilling and repairing boreholes around the constituency.
"I interact with a lot of business people and I ask them to help me with donations to assist these people," he said.
Communities in Hwedza South have also applauded the youthful minister for assisting them during the COVID-19 restrictions and lockdown especially with food distributions for the people. تطبيقات لربح المال في مصر