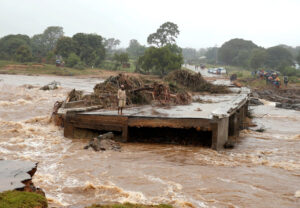 By Ruvarashe Mariga.
The Southern Part of Africa is set to be struck by 13 cyclones this rainy season the Southern Africa Regional Climate Outlook Forum has warned
The Local Meteorological services department is expecting that the country is likely to experience only two of the 13 this 2023-2024 rain season
In preparation for the situation the Government of Zimbabwe has allocated ZWL$37 billion for disaster response and management
According to the Department of Civil Protection (DCP), an estimated 250,000 people are at risk of adverse weather conditions, including cyclones, floods, landslides, and hailstorms.
Areas prone to flooding, such as Mbire, Tsholotsho, Muzarabani, Chipinge-Middle Sabi, Chimanimani, and Gokwe North, were put on high alert before the start of the rainy season.
However, it is important to note that flash flooding can occur anywhere in the country depending on the intensity of rainfall and the condition of drainage systems. The risk of landslides is particularly high in the Eastern Highlands.
According to statistics on climate change, harsh weather conditions have already caused severe damage, affecting 5,000 people, killing 13 people and injuring 16 this year. In the previous year, Southern Africa experienced 11 cyclones, including one that caused significant destruction and displaced over 100,000 people in Mozambique, Malawi, and Madagascar.
The impact of extreme weather conditions is estimated to directly and indirectly affect at least 250,000 people and their livelihoods, mainly in landslide- and flood-prone areas.
So far, at least 5,000 people have been affected, while 13 deaths and 16 injuries caused by extreme weather conditions have been reported.
The government has developed a y plan to respond quickly to rain-induced disasters, including activating civil protection structures and providing district resources. The Meteorological Services Department will continue to monitor the season and provide timely forecasts and alerts to the Department of Civil Protection.