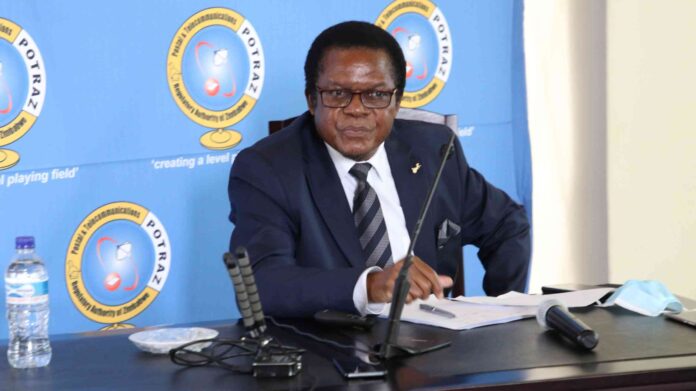 By Itai Ndongwe
Postal and Telecommunications Regulatory Authority of Zimbabwe (POTRAZ) is accelerating its national e-learning and computerization programs in order to propel ICT growth in the Fourth Industrial Revolution.
The regulator's commitment, in collaboration with the Ministry of Information Communication Technology and Courier Services  to equip schools with digital infrastructure demonstrates that they have grasped President Emmerson Mnangagwa vision who is behind these programs, the mastermind of these developmental initiatives.
This is also consistent with President Mnangagwa's mantra of "leaving no one and no place behind," which aimed to improve teaching and learning while bridging the digital divide and accelerating the attainment of a digital economy, which has become central to the functions of a modern economy.
POTRAZ provided laptop computers to 20 schools in the Bulawayo Metropolitan Province on Friday.
Beneficiaries compromised  Imbizo Garrison Primary School, Induna High School,Woodville Primary School, Baines Junior School,Hamilton High School,Ngwenyama Primary School,Emganwini High School, Nketa Adult Library, Nkulumane High School ,Mncumbatha Primary School, Lobengula Primary School, Trenance Primary School, Cowdray Park Primary School, Mbizo Primary School, Inyanda High School, St Peter's Primary School, Pumula South Secondary School, Ingwegwe Primary School Induba Primary School, Mtshede Primary School, Queen Elizabeth II Primary School.
POTRAZ Director General Dr Gift Machengete stated that they were sent by the President to accelerate ICT programs and promised to move at lightning speed in order to ensure a fully connected Zimbabwe.
"Today we are in an urban area – Bulawayo Metropolitan Province – commissioning a further twenty – two (22) schools computer labs, which is a demonstration that no one and no place shall be left behind as we revolutionise the country's ICT landscape and take our position as a force to reckon with in the Fourth Industrial Revolution," Dr Machengete said.
He added that, "As POTRAZ, we are only Government's implementing partner for such developmental initiatives. Therefore, allow me to thank and applaud the visionary behind these programs, the Mastermind of these developmental initiatives – His Excellency the President who has sent us together with the Ministry of ICT as his stewards of development to the people."
The Honourable Minister Jenfan Muswere commissioned twelve (12) School ICT Labs in Masvingo rural and Gutu Districts forty night ago.
This demonstrates that the government recognizes the Internet's importance and transformative benefits to national development, as evidenced by the government's focus on various ICT development initiatives aimed at accelerating the country's economic development.