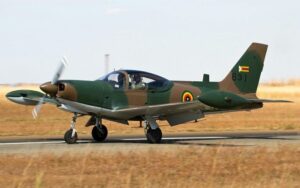 HARARE- An Air Force of Zimbabwe (AFZ) SF260 trainer aircraft, crashed in the Mlezu College general area near Gweru, claiming two lives.
The aircraft was on a routine training sortie when it hit a power line and crashed.
The Air Force is yet to release the names of the deceased as they are yet to notify their next of kin
In a communique released after the accident, Commander AFZ, Air Marshal Elson Moyo, said:
"We have learned with heavy hearts, of the passing on of two pilots after a training accident. Right now, our thoughts and prayers are with the families of the deceased pilots"
"I want to extend my deepest condolences to the families and friends of the deceased for this sad loss of AFZ pilots who were on duty and playing their part to ensure that the AFZ fulfills its mandate to defend Zimbabwe's airspace and territorial integrity."
According to close sources in the military, the aircraft fleet was bought in 1998 and the fleet has been in use since then
The SF.60 aircraft is a basic trainer/ light attack platform from Italy. The aircraft was designed in the early 1960s with the purpose of producing a lightweight aerobatic platform
In April 2021, an AFZ Agusta Bell 412 (AB 412) helicopter crashed in Goromonzi and killed two pilots, Wing Commander Tinashe Thomas Manyowa and Flight-Lieutenant Annita Mapiye, as well as Flight Sergeant Chikamhi, a technician.
The helicopter crashed into a house at Plot 2 of Gardner Road, Ward 16 in Goromonzi, Mashonaland East.