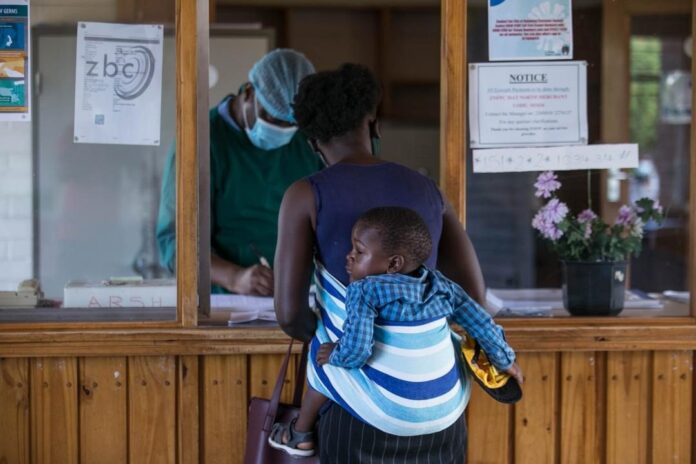 Nhau Mangirazi
Zimbabwean government has allegedly abandoned frontline health workers over Covid-19 risk allowances with some disgruntled primary health counselors, data entry clerks and microscope technicians feeling cheated.
Sources have also indicated that workers from only four provinces benefited from the US$75 monthly allowances announced last year as part of government's Covid-19 risk allowances.
A source based in Matabeleland South claimed that government has been using divide and rule tactics over risk allowances since last year.
"We understand our colleagues from Harare, Chitungwiza, Bulawayo and Mashonaland Central were paid risk allowances since last year while other provinces have lost hope in getting anything from the government. It is unjust for all health workers," the health worker said while speaking on conditions she is not named.
Among the disgruntled frontline health workers are those seconded to the Health and Child Care ministry under Public-Private Partnerships through the Global Fund.
The workers also claimed that they have been neglected during Covid-19 global pandemic.
The workers claim that they are also in danger of exposure as their colleagues whom the government chose to pay.
A health worker based in the Midlands province complained that they have been shortchanged while government has not bothered to address the dire situation.
"Heath workers under the Global Fund and health ministry partnership are not considered professionally. We are facing economic challenges and no one seems to be concerned.
"Both the Global Fund and health ministry are neglecting us. Government became part of truce working against its own people to get access for health grants.
"We have not benefited anything out of it as we feel short changed, as government has failed to protect Zimbabwean workers from 'unfair labor practices' as guarding and upholding fair labor laws is not considered."
He said that no one seems to care about their plight.
"We get very little pay and not enough. The money is way below that prescribed by the government, Global Fund workers and what other employees in health sector earn, whether private or public sectors," he said.
The majority of the affected workers joined government recently and have been on renewable contract since 2009
"Some primary health counselors have been on contract for more than 10 years and are not allowed to be fully employed as there are no grades for them for salaries. We are out of the health systems," the health sources said.
Beatrice Dupwa, national primary health counselor's coordinator refused to comment on the matter.
''I am sorry I don't comment on those matters check out with the ministry permanent secretary please," she said.
Secretary in the Ministry of Health and Child Care Dr Jasper Chimedza referred all questions to the ministry public relations officer Donald Mujiri who did not respond to the text messages while calls went unanswered..
Itai Rusike, the Community Working Group on Health (CWGH) executive director said motivation is a crucial factor in determining the performance and psychological well-being of health workers especially when dealing with a global health pandemic such as the Covid-19 situation and risking their own safety and health.
"The government should value and appreciate the health workers by coming up with innovative ideas to motivate the over stretched and overburdened health workers from leaving the country for greener pastures and further compromising our public health delivery services," he said.
Former health minister during the Government of National Unity DrHenry Madzorera said primary health counselors and data clerks play a critical role in the health delivery system.
"These health workers must get incentives to do their work. What government is effectively doing is to destroy the work of the Ministry of Health because the work of health care delivery is team work that cannot be executed individually.
"Everyone plays his or her role from primary health counselor, data clerks, nurse, nurse aides, physiotherapist, ground floor worker, doctors and many behind the scenes. Everyone has a role to play.
"Considering the fact that they were and still exposed to Covid- 19, one of them is equally at risk from being infected with the deadly virus,"  Dr Madzorera.
He called on the Government to give equal incentives to all health workers.
"If any other health worker was sidelined over getting Covid-19 risk allowance it creates animosity among the health workers.
"There will be a big problem as sooner or later the castle will crumble and this is time-bomb as it will be too late to mend what the authorities have messed up," he said.
Zimbabwe has recorded 126 000 cases of the coronavirus which was first detected in the country in February last year.
At least 4 482 people have succumbed to the virus including health workers and professionals.