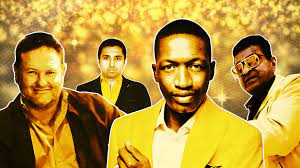 Philis Chivheya
President Emmerson Mnangagwa special envoy to the Americas and Europe Uebert Angel has been thrown under the bus and could have his diplomatic appointment withdrawn for name dropping and associating himself with shady dealers.
Angel who is Mnangagwa's Ambassador At Large is featured in a money laundering investigative documentary being serialized by the Arabian Television Network's Aljazeera investigative unit were gold smuggling and money laundering was exposed.
"Boastful behavior and name dropping by some personalities featured in the documentary, seeking personal gain and glory should never be taken as an enunciation of government policy," Mutsvangwa said.
Angel, a self-proclaimed prophet was secretly recorded by the AIJ reporters allegedly offering to use his diplomatic office to launder more than USD$1.2 billion as well as move gold overseas illegally.
Angel was recorded making calls to high officials including the First Lady Auxilia Mnangagwa and his son Emmerson Mnangagwa junior and President of the Zimbabwe Mining Federation Heneretta Rushwaya.
Among other people recorded in the film is Mc Millan, Kamlesh Pattni, Alistair Mathias, Simon Rudland.
Mutsvangwa said government takes money laundering allegations seriously and has initiated investigations into the issues raised.
"Any person found to have engaged in acts of corruption, fraud or any form of crime will face the full wrath of the law," Mutsvangwa said.
The statement comes three weeks after the central bank governor John Mangudya came out gun-blazing against those who were name dropping government officials to advance their self-interests.
The Al Jazeera documentary, Gold Mafia episode, exposes alleged illicit financial flows from Zimbabwe, including serious allegations of abuse of diplomatic immunity, illicit gold trading, corruption and money laundering in the mining sector.
Non-governmental organizations have call on the Financial Intelligence Unit, Zimbabwe Republic Police and the Zimbabwe Anti-Corruption Commission to investigate further and introduce the necessary reforms to end such activities in the country.
The documentary comes after the release of the 2022 Corruption Perceptions Index which revealed endemic corruption in Zimbabwe, with a score of just 23 out of 100.
New scandals of grand corruption and abuses of public office continue to emerge, which damages the country in the perspective of investors and development partners. Along with the shocking findings of the documentary, these results make clear that it's time for the government to take stronger action against corruption and money laundering.
As the documentary highlights, more and more cartels work with individuals and institutions in Zimbabwe to move dirty money using anonymous trusts and shell companies in tax havens and other secretive jurisdictions. This insidious relationship facilitates organized crime and huge outflows of gold and other precious minerals.
In particular, the documentary exposes incidences of alleged under invoicing and under declarations by registered gold dealers to Fidelity Printers and the Zimbabwe Revenue Authority, alleging even higher losses than previously assumed.