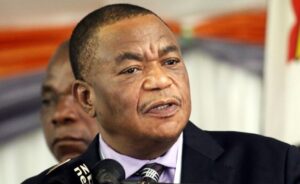 Arthur Tafara Muoni
Government say it is in the process to review laws that prevent trafficking of persons to make it consistent with current best international standards, Vice President Constantino Chiwenga has said.
Speaking at the launch of the 2023-2028 Zimbabwe Anti-Trafficking in person National Plan of Action (NAPLAC) on Wednesday VP Chiwenga said Zimbabwe frowns at 'this heinous crime' which he said is 'grave violation of human rights'.
"Trafficking in person is real and present danger hence we need clear and robust institutional arrangements to deal with this scourge as part of the regional and global family," Chiwenga said.
Human trafficking in persons is a huge problem facing many countries around the world.
 It is a crime that strips an individual of all their dignity, their self worth and their confidence.
The NAPLAC seeks to fight the rampant problem and it is underpinned by the four pillars which are; prevention, protection, prosecution and Partnership and will be implemented over five years from 2023 to 2028.
In 2016 many Zimbabweans were trafficked to Kuwait after being lured by false job promises.
This scenario happened again in 2022 where young girls were lured to Oman again on lucrative Job.
Among the actions it prioritizes is strengthening tools for the identification of victims of trafficking, which is the baseline for measuring an effective response.
Zimbabwe has been accused of not being in fully compliance with minimum standards for the elimination of trafficking but is making significant efforts to do so.
 These efforts included investigating and prosecuting human trafficking cases and conducting training for law enforcement, immigration officials, and other key anti-trafficking officials.
In January police arrested a Zanu PF official facing allegations of human trafficking and assisting eight Pakistanis to enter the country illegally. He is currently out on bail.