By Munyaradzi Doma
Councilors have accused Harare City Council management of failing to priotise the health and safety of workers after it emerged that staff is working without protective clothing where required.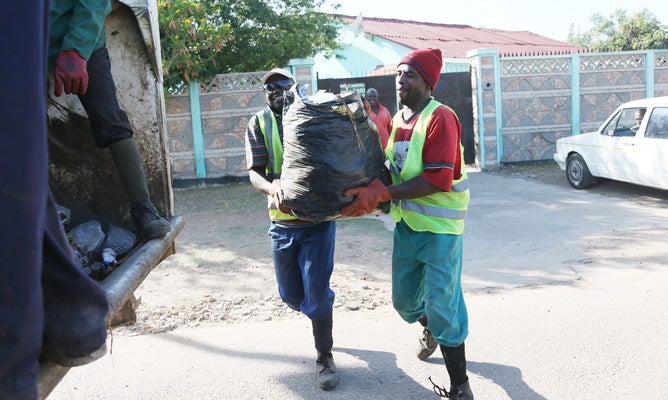 This came out during a recent full council meeting which heard that many workers are putting their lives at risk while working for the city.
One case in point was highlighted by Councillor Kudzai Kadzombe that some employees at Crowborough Sewer Treatment Plant had been seen cleaning the sewer pond with no gloves and musks.
"Your worship the issue of protective clothing can never be understood by someone who works in an office and wears a suit.
"During a recent visit to Crowborough, we saw some gentlemen who were cleaning the sewer ponds without any gloves or musks. Your worship there are serious health implications not having protective clothing, let's care about our workers. Let's buy those protective clothing for our workers before we buy cars," said Kadzombe.
Similar sentiments were also echoed by Councillor Fungai Nyapokoto who said protective clothing was a priority that had to be treated as such. % ivermectin for dogs
Human capital director Retired Major Matthew Marara said it was council's duty to buy workers uniforms, saying it was part of their strategic plan.
He said that there had been so many requisitions and that 80 percent of them had been paid for.
"We are making it a point to buy the uniforms at the beginning of each year but we are having issues with some workers who end up selling these uniforms. So to guard against such cases, we have said each employee should return the old uniform before they get the new one," said Rtd Maj Marara. do i need to use ivermectin and permethrin at the same time
Deputy Mayor Enock Mupamawonde however argued that due diligence was not being taken when buying the uniforms for the workers, as some ended up receiving wrong sizes. is ivermectin blue
Workers who get oversized uniforms end up selling them.
Councillors further argued that though council has a health and safety department, it was sleeping on duty as it was not prioritising the health and safety of workers.
It was also argued that most of the times, the items of clothing are cheap quality so they get worn out quickly.
Harare Mayor Councillor Hebert Gomba said provision of protective clothing is a priority. He however added that workers also had to take responsibility by not selling their uniforms, saying initiatives to have workers exchange old uniforms for new ones should be supported.