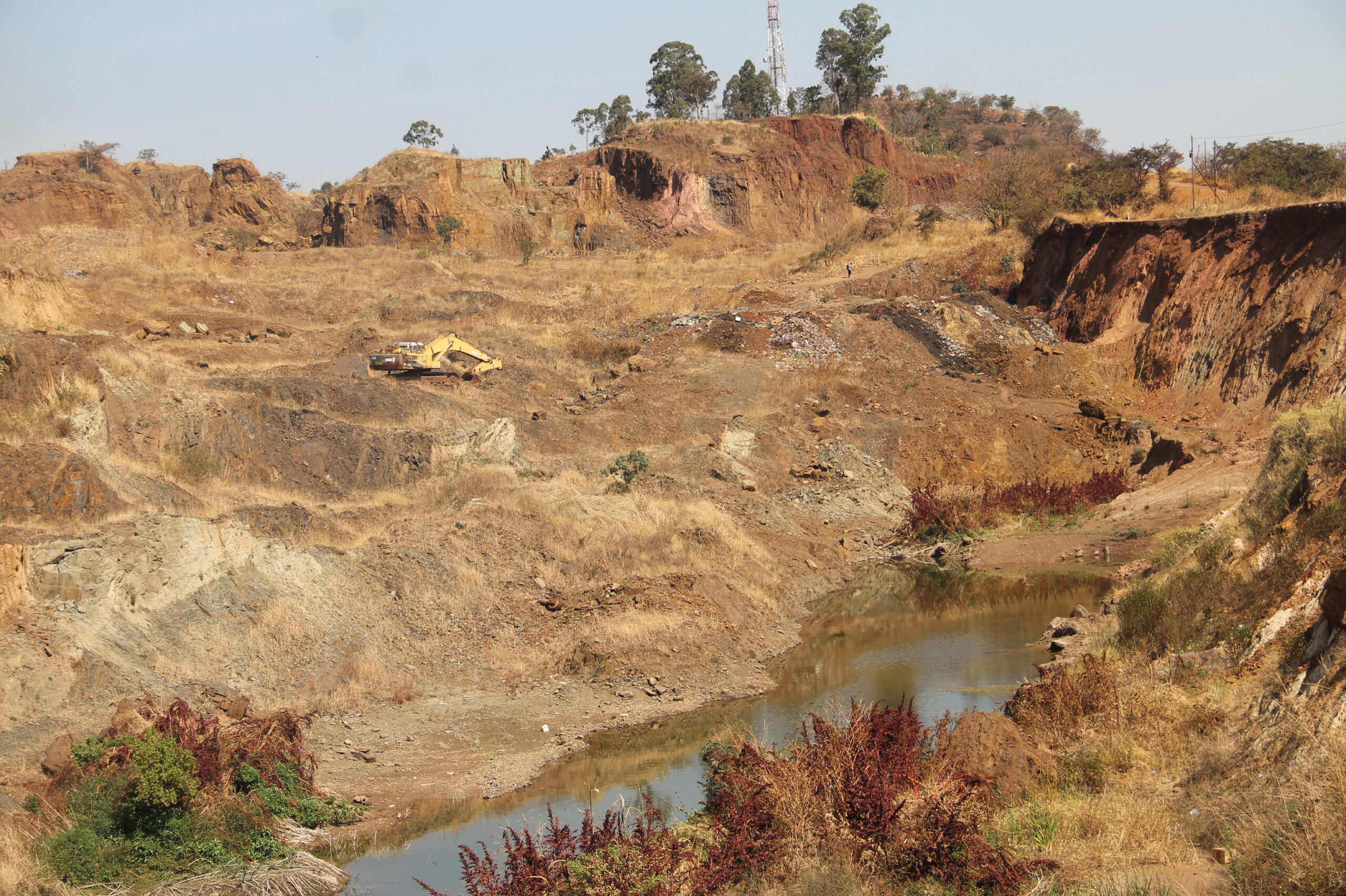 Talkmore Gandiwa
On the top of a hill, bulldozers and caterpillars manoeuvre, slicing off chunks of the mountain's remaining sections almost approaching an enormous concrete water tank perched on the summit.
Seven kilometres west of the Zimbabwean capital Harare in Warren Park, the gravel extraction atop the hill has become the business of the day.
But, the looming disaster come rain season is beyond imagine.
The looming catastrophe has Waren Park residents concerned.
They are worried that the gullies dug below and on top of the hill pose a great danger to the people during the rainy season.
In an interview, a Warren Park resident Mathew Kurehwatira (47) said their children's lives were in great danger as the hill would be dotted with dead pools.
"We are afraid that the rainy season with predicted heavy rains, we are likely to experience a landslide since the hill now holds loose rocks and mud," he said.
Kurehwatira express concern that government was also a major contributor in the land degradation that is taking place on the hill.
Another resident Agness kusena (35) said the Harare City Council's gravel extraction was also a health hazard to the people.
"We have been heavily affected by dust coming from gravel extraction activities and movement of heavy vehicles up and down from the hill," she said.
Melody Mapuranga (27) said Harare faced serious challenges from gravel excavation.
"After they dig up whatever they get, the remains at each rain season are washed away and they go straight to water bodies like Lake Chivero, leading to serious siltation of the lake," she said.
"People who do sand poaching are rarely arrested in this country because they have links to the political leadership in Zimbabwe.
"They, therefore, place themselves above the law, doing whatever they want without being questioned, even destroying the environment," Mapuranga said.
Lake Chivero supplies the bulk of water for Harare residents and other dormitory towns like Norton.
Amid thriving gravel soil and sand poaching around Zimbabwe's towns and cities, water bodies like Lake Chivero have not been spared from siltation.
According to the Harare City Council, siltation into Lake Chivero has reduced its total storage capacity by an estimated 20 percent.
Residents believe the continued water shortages experienced in many urban areas in Zimbabwe was due to siltation.
A truck driver Simon Karwi said their activities on the Warren Park Hills were authorized by the city council.
He said a truckload of gravel fetched US$15 or its Zimbabweans dollar equivalent.
"The council approved the extraction of gravel saying they want to destroy the hill and build houses for residential purposes but they are now digging pits which endangers not only local residents but also us as drivers as we ferry gravel from the hill to designated destinations," Karwi said.
However, the Environmental Management Agency has defended Harare City saying the gravel extraction was above board.
In an interview, EMA senior environmental educational and publicity officer Harare metropolitan province, Batsirai Sibanda said the agency was aware of the gravel extraction at Warren Park Hill.
"The area has been demarcated for that purpose and therefore the authority is not committing any offence," Sibanda said.
Sibanda said the borough pits on Warren Hills have been in existence before EMA was established while an Environmental Management Plan was submitted by Harare City Council.
"We are closely monitoring the gravel extraction taking place on the hills," she said.
Government's National Development Strategy 1 (NDS1) is targeting housing construction and road repairs in support of its policy with Sibanda saying local authorities had areas reserved gravel extraction.
"When the City of Harare was allowed to extract gravel from Warren hills there were no households nearby, hence reducing health hazards.
"However, the encroachment of houses has led to a number of complaints from residents, especially in Warren Park D," Sibanda said.
She said EMA expected the local authority to put in place preventative measures to suppress dust and to backfill the open pits where possible.
No licence of extraction and transportation is required from EMA.
Permits are only required for sand mining and transportation.
"This year the agency has prosecuted 100 illegal sand miners and transporters in Harare province," she said.
She, however, added they had noted that sand poaching can only end once land owners become responsible by making sure that their premises are guarded at all times.
EMA fines up to US$300 or $5 000 people caught digging or transporting sand or gravel illegally.
Established under the Environmental Management Act [Chapter 20:27] and enacted in 2002, EMA is a statutory body responsible for ensuring the sustainable management of natural resources and protection of the environment, the prevention of pollution and environmental degradation.
EMA states that 10 percent of Zimbabwe's soil is under high risk of erosion from land degradation, desertification, and drought.