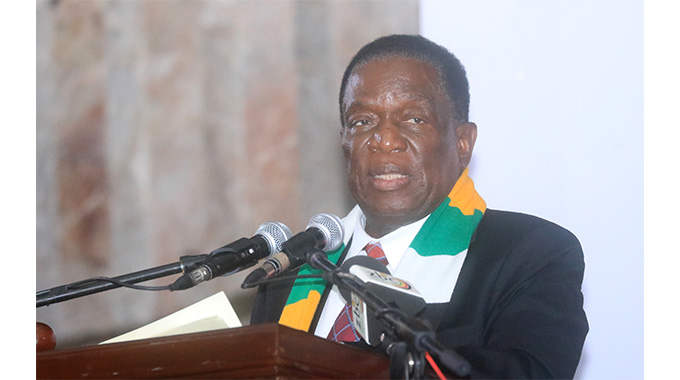 HARARE – President Mnangagwa has said that over the next five years, government business will be anchored on by the "Whole of Economy and Society Approach to Development as he sought to inculcate a working culture to his new government.
The Whole of Economy and Society Approach to Development was mostly popularized by the United Nations under its 2030 Agenda for Sustainable Development premised on the objective of leaving no one behind through the adoption of a common vision, resolve and ingenuity.
In his address at the Government High Level Retreat in Harare this morning, the President outlined key areas of focus while admonishing his new Cabinet to work hard while accelerating and completing key projects that seek to grow an inclusive economy and usher in Zimbabwe's upper middle income status by 2030.
Mnangagwa said fiscal and monetary policies should foster economic stability and predictability as well as spur confidence while industrial development and productivity together with import substitution will also be intensified.
He said implementation of the Digital Agenda should be accelerated so that public services are offered online for the convenience of people. Other accelerator projects such as Gwayi-Shangani Dam, Kunzvi Dam, the Beitbridge-Bulawayo-VicFalls highway  and the drilling of 35 000 boreholes should be completed.
Mnangagwa also said that government would continue to intensify its development work in consolidating food security and sovereignty through higher agricultural production and productivity, improving social services across the nation, enhancing the transport system and other infrastructure and ensuring that the rich mineral resource benefits the people of Zimbabwe.
He said the ease of doing business reforms are on-going to increase both local and foreign investments. "Sectors which remain burdened by numerous and overlapping legislative and regulatory processes, as well as licence, fees and taxes must be urgently attended to."
He called on his government to do away with the shef-shef mentality. "We are servants of the people and must manage government affairs with humility and servant leadership."