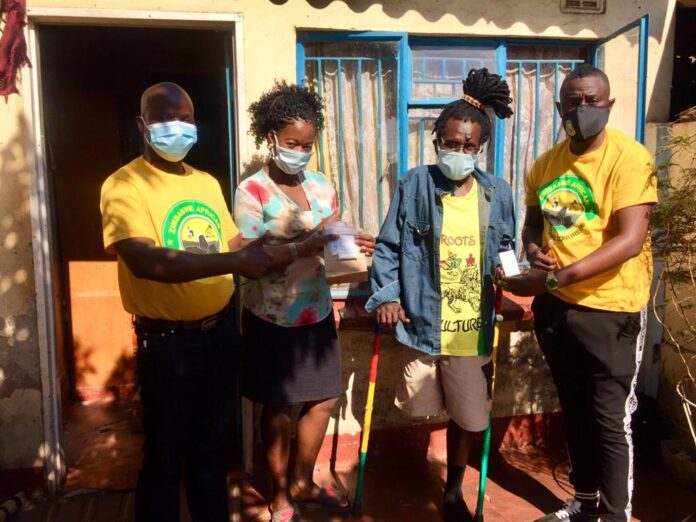 STAFF WRITER
The Zimbabwe African National Congress [ZANC] has supplied critical medical drugs to the needy in Dzivarasekwa Constituency that falls under one of its aspiring Members of Parliament, Fredrick Sunhwa.
Sunhwa is contesting as MP for Dzivarasekwa Constituency in 2023 under the ZANC ticket while ZANC is led by South African based Zimbabwean businessman Timothy Ncube.
The political party sprang to action following reports on August 6, 2021, that one of the residents of Dzivaresekwa suburb, Eliya Mwakapala, who is a disabled citizen with one leg, has had serious difficulties in breathing followed by swelling of his only leg since March 2021.
"On the 10th of March 2021, I started having breathing problems followed by swelling of my only leg left working. The Doctor said my body is full of water and needs to be drained immediately," Mwakapala narrated his sad story.
Nevertheless, Mwakapaa could not afford the high cost of the drugs prescribed and a report reached the ZANC Shadow MP, who acted in next to no time!
"As ZANC, we believe that all Zimbabweans must have equal access to healthcare and education nationwide. That's why we are already using our own resources to save the lives that matter so much to our type of democracy," Sunhwa said.
"ZANC will end the prevailing economic inequalities that has caused the death of many of our people. We thank our party president, Timothy Mncube for all the support", added Mr. Robson M. Musarafu, who is also shadow MP for Goromonzi South Constituency under the same party.