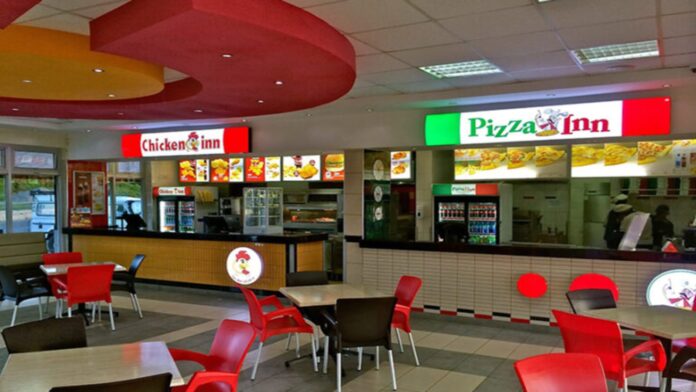 HARARE –  Simbisa says its group operating profit margins during the three months to Sept. (Q1 FY22 ) improved by 5 percentage points from  10% in Q1 FY2021 to 15% in Q1 FY2022 as a result of increased turnovers against a carefully managed cost-base.
The easing of COVID-19 related restrictions in Zimbabwe and the region resulted in improved trading hours and customer counts for the business although counter trading hours in Zimbabwe were still 52% below capacity due to sustained nationwide curfews that were in place during the quarter under review and seating capacity was restricted to 50%.
In its first quarter trading performance report, Simbisa said group revenue for the period recorded a 125% historical increase against prior year comparable period.
The Zimbabwe operations' revenue grew 139% (historical) year-on-year driven by a 29% increase in customer counts versus the prior year period as Covid-19 related trading restrictions eased off. This translated into real growth in average spend spurred by US Dollar average spend increased 11% versus prior year.
Revenue from the regional operations increased 107% on a year-on-year basis, with USD Average Spend remaining flat (+1%) on the prior year period.
Customer counts in the regional business increased 37% during the period, on the back of a recovery in trading activity as Covid-19 restrictions eased in the period under review.
Regional Businesses' operating profit margins grew to 14% in Q1 FY2022 from 9% in Q1 FY2021.
Whilst Kenya's trading hours were still 20% below full capacity, other markets including Mauritius, Ghana and Zambia resumed operations at full capacity, although seating restrictions were in place in Zambia resulting in all trading taking place on a takeaway basis in the quarter.
Despite the currency volatility in Zimbabwe, currencies were generally stable in Simbisa's regional operating markets with the Mauritian Rupee and Ghanaian Cedi depreciating 7% and 5% against the US respectively.
The Kenyan Shilling devalued just 2% against the US Dollar whilst the Zambian Kwacha appreciated 19% against the US Dollar, on the back of post-election positive sentiment.
Simbisa's strategy to grow the delivery business has been fruitful, with the number of deliveries for the Group growing 48% in Q1 FY2022 versus prior year.
Kenya has led the growth in the delivery business, with the contribution to revenue in this market increasing from 16% when the delivery business was unbundled in Q1 FY2020 to 24% in Q1 FY2022.
The strategic focus in FY2022 will be to grow the delivery business in the rest of the region and in Zimbabwe, where deliveries contributed just 2% in Q1 FY2022 hence an opportunity for growth.
The Group continues to pursue its expansion drive in number of physical counters across the region as part of its medium term plans.
There are a further 73 new store openings in the pipeline for the remaining 9 months of the financial year under review. Significant capital investment is also being made in upgrading the Zimbabwe Operations' Central Kitchen and Central Stores to increase storage capacity and further automate the production process.
Zimbabwe opened three new counters and invested in one mobile truck in Q1 FY2022 to close the period with 238 counters in operation while in Kenya it opened eight new counters, two new counters in Ghana and 1 new counter in Mauritius.
Effective July 1 2021, Simbisa converted Namibia into a franchised market, thus closing the period with 248 company-operated counters in the region as at 30 September 2021. Franchised market, DRC, opened 4 new counters in Q1 FY2022, closing the period with a total of 303 counters (franchised and company-operated) in the region.
The group recently launched in Zimbabwe its inaugural loyalty platform, "Innbucks", which is available as a mobile application or on USSD.
The platform rewards customers with discounts on every purchase, gives them access to exclusive offers, allows them to buy meals for friends through easy wallet transfers and also solves the issue of change shortages.