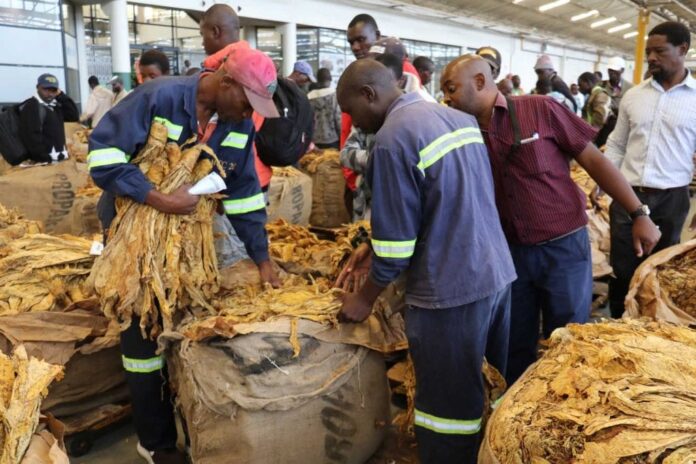 Reason Razao
The Tobacco Industry and Marketing Board has registered three auction floors in Harare after some registered outside failed to attract farmers and registering sales as low as five percent in the previous season.
The tobacco selling season starts on April 7 this year with contract sales beginning a day later.
As part of preparations for this year's tobacco selling season, TIMB said Government has classified all stakeholders involved with the selling and distribution of tobacco as essential workers, rendering them the eligible to get vaccinated.
The TIMB had allowed contracting companies to operate in five centres Marondera, Rusape, Bindura, Mvurwi and Karoi.
Appearing before the Portfolio Committee on Lands, Agriculture, Water, Fisheries and Rural Settlement, outgoing chief executive Andrew Matibiri said only Tobacco Sales Floor Limited, Boka Tobacco Floors and Premier Tobacco Auction Floors had been licence for the forthcoming selling season.
He was giving an update on the level of preparedness ahead of the selling season.
According to Matibiri, the three auction floors were selected because they were inspected and were found to have adequate security, ablution facilities, banking facilities, health facilities, waiting areas, IT systems, backup generators, boreholes water supply systems and water tanks.
The TIMB also licensed 28 class A buyers to buy tobacco on the auction floors.
"Farmers will be paid 60 percent in foreign currency for their produce while 40 percent will be remunerated in RTGS dollars," said Matibhiri.
He was, however, not convincing on assuring farmers that they will receive their foreign currency money saying directives from the Reserve Bank of Zimbabwe indicated that farmers will receive the forex in their foreign currency account.
He said the RBZ had also indicated that the remainder will be deposited in farmers' local accounts. recit erotique viagra
The portfolio committee chairman Justice Mayor Wadyajena said the farmers had experienced difficulties in accessing their proceeds last season.
Matibiri, however, said the RBZ had issued a directive that the tobacco growers will get at least US$ 1 000 per day in hard cash from the banks.
Meanwhile, Matibiri said there was a 16 percent increase in tobacco hectarage with 20 000 more hectares planted bringing a total of 125 000 hectare under the crop during the 2020/2021 agricultural season.
This, according to Matibiri, was an increase from the 105 000 planted last season.