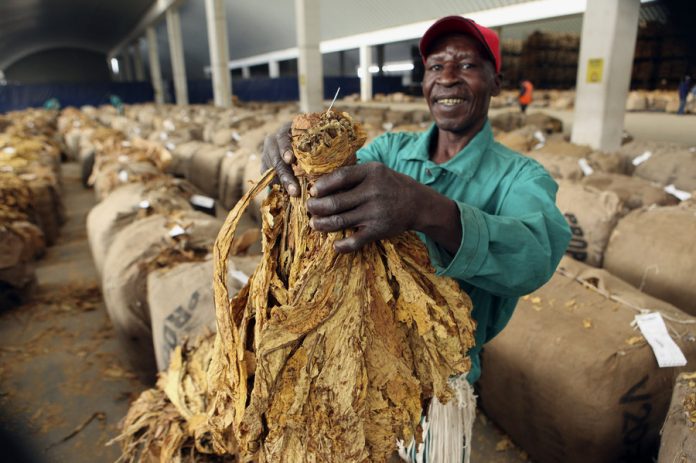 Farai Mabeza
Tobacco deliveries are slower than expected because farmers are not happy with the fixed exchange rate of 1:25 under which they are required to surrender 50 percent of their foreign currency earnings, it has emerged.
Tobacco Industry and Marketing Board chief executive officer, Andrew Matibiri, revealed this during a tour of the Central Leaf Tobacco sales floor by members of the Parliamentary Portfolio Committee on Lands, Agriculture, Water and Rural Resettlement.
Matibiri told the parliamentarians that the fixed exchange rate which was way below parallel market rate has seen farmers becoming reluctant to bring their crop to the floors.
"The biggest challenge we are having, which is the reason we are not seeing the deliveries we expect from the farmers is the issue of the exchange rate," Matibiri said.
Under the current regulations farmers take home 50 percent of their earnings in foreign currency while the remainder is paid out in Zimbabwe dollar at 1:25.
Government earlier this year fixed the exchange rate between the USD and the Zimbabwean dollar at 1:25 when it passed the use of the greenback in local transaction to ease forex demand in the wake of the COVID-19 outbreak.
The exchanged rate has already been blamed for the decline in the number of registered growers.
Only 7,554 new growers had registered to grow tobacco in the 2019/2020 season as at 12 March 2020, an 82 percent decline from those that had done so over the same period in the 2018/19 season.
The 2020 tobacco marketing season was officially opened on 29 April 2020, a month later than what was experienced in the previous season.
The delays were caused by the COVID 19 lock down. Low volumes of the crops are expected to the market in the face of late rains and long dry spells experienced during the cropping season, as well as erratic supply of energy to the crop under irrigation.