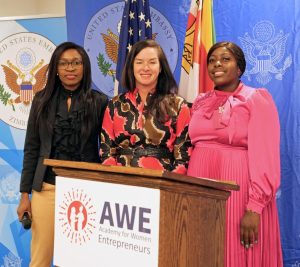 by Talkmore Gandiwa
The Academy for Women Entrepreneurs (AWE), a US-based empowerment organisation that offers funding and skill-transfer to women and girls at the grassroots level, is anticipated to continue helping more aspiring women entrepreneurs in Zimbabwe.
AWE has become one of the beacon to women entrepreneurs in the country to promote the economic emancipation of women through providing skills and grants needed to start their own businesses
The local women entrepreneurs are highly affected by lack of financial support and skills rank among the top challenges hindering women from realising their full potential in businesses.
The organisation is commitment towards empowering women and girls in Zimbabwe.
United States Embassy Zimbabwe  Charge d 'Affairs Elaine French said supporting women entrepreneurs in Zimbabwe is one of the important factors to the U.S. Embassy in Zimbabwe as it foster to broaden and promote equitable access to resources and opportunities and facilitate economic reform.
"Women in business face a plethora of challenges. We are stepping up our efforts to strengthen their skills to be competitive, perform better, and create a network that support each other in building an inclusive economy that works for everyone," said French.
The U.S embassy has also introduce the American chamber of commerce in the prior year to promote trade between Zimbabwe and American companies and business players.
American chamber of commerce director of member services Wadzanai Chiuriri said the platform will unlock the local business companies to reach its full potential through continues engagements with the western community.
The organisation granted 2 grants worth one thousand dollars each to local entrepreneurs who participated in the seminar.
AWE indicated that it is already changing lives with upcoming entrepreneurs receiving grants in Zimbabwe last year.