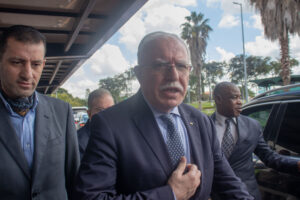 By Talkmore Gandiwa
Palestine delegation which jetted in the country is set to sign MoUs with the Zimbabwean this week.
The delegation is led by the Palestine Minister of Foreign Affairs and Expatriates Mr Ridadh ak- Maliki arrived in the country this Sunday on a three-day business visit is expected to meet President Mnangagwa and other minister in the key ministries.
Maliki said the relationship between Zimbabwe and Palestine is historic, and the Palestinians are proud of the brotherly relationship between the two countries.
"we want to show our support and solidarity with Zimbabwe against all types of sanctions we are here to see how we can work together to collaborate because solidarity is just not enough in terms of words but also terms of action and deeds," said Maliki.
Adding on he said the visit is critically important that will reflect Palestine government commitment towards relationship with Zimbabwe.
Zimbabwe continues to support the rights of the Palestinian people and initiatives that led to the establishment of the independent State of Palestine from Israel's occupation.
In a press statement the Ministry of Foreign Affairs and International Trade said, cooperation between the two states of Palestine and Zimbabwe is historical, given the shared bond of solidarity exemplified by the Palestine liberation organization towards Zimbabwe liberation movement.
"The two countries enjoy cooperation in the fields of media, agriculture and other sectors," said the ministry.
The two are determined to explore mechanism to cement their ties further, while leveraging on the excellent political and diplomatic relations which have stood the test of time.
The ministry also said following the attainment of national independence in 1980, the PLO subsequently appointed a representative in Harare. Upon the declaration of the state of Palestine in 1988, Zimbabwe became one of the African country to extend full diplomatic recognition to the state of Palestine.