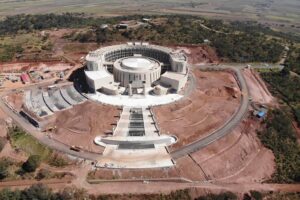 Zimbabwe's leader is seeking investment for a new national capital with luxury homes just down the road from an impoverished and overcrowded Harare.
Zimbabwe's political leaders have a remedy for the collapse of the capital Harare: Build a new "cybercity" with as much as $60 billion of other people's money.
The development in Mount Hampden, 11 miles northeast of Harare, is slated to be the site of the national parliament, headquarters of the central bank, the high and supreme courts, mineral auction centers, a stock exchange, a presidential palace and luxury villas.
"Mount Hampden is the new Harare," said Shaji Ul Mulk, the billionaire who is backing it, adding that he's investing $500 million to get started on a project that he believes will ultimately cost $60 billion and resemble Dubai, where he lives. "The parliament building has already been built there and all the ministers are moving there."
A brochure depicts pristine walkways, towering high rises and shining malls — all to be shared by a multiracial coterie of well-heeled residents. Plans also call for a solar plant, an important draw for a country currently experiencing 19-hour daily power cuts, and the use of blockchain technology. Digital asset accounts will be permitted.
That's a world apart from Harare, which in two decades has transformed from a well-maintained city into what it is today: an urban sprawl riddled with potholes where refuse is rarely collected, electricity supply is more often off than on and many suburbs and townships have had no reliable running water for years. Commercial buildings have just 40% occupancy, and the city center is overrun with street vendors.
The planned development in Mount Hampden reflects "a ruling elite preoccupation not to interrupt their lives by having to see dirt and poverty," said Stephen Chan, a professor of world politics at the School of Oriental and African Studies in London. In 2005, Zimbabwe's leaders cleared slums and informal businesses in cities with earth-moving equipment in a program called Operation Murambatsvina, which means "move the rubbish" in the Shona language, displacing 2.4 million people. Now, rather than attempting to address underlying issues, officials are opting to move the capital entirely.
To critics, it's just the latest attempt by Zimbabwe President Emmerson Mnangagwa to revive a national economy that's all but collapsed. The 80-year-old has traversed the world since taking power in a coup in 2017 trying to woo investment. To date he's had little success.
About $30 billion of projects ranging from mines to abattoirs have been announced, with little actually taking place on the ground despite promises of almost immediate development. The economy is fragile, with a chronic lack of foreign currency making it hard for major construction projects to move forward. Zimbabwe's currency has plunged, interest rates are the world's highest and annual inflation is 244%.
Still, Mnangagwa is undeterred.
The president laid the foundation stone for the project on July 20, saying it was a testament to his ability to attract funding.
Mnangagwa's government is not the only one to dream of building state-of-the-art cities from scratch. Saudi Arabia's Crown Prince Mohammed Bin Salman has a $500 billion plan for a futuristic city called Neom , and Indonesia's President Joko Widodo is pushing the construction of a new capital known as Nusantara at an estimated cost of $34 billion.
Still, for Zimbabwe, roiled by economic and political turmoil over the last two decades, the challenges are huge. The country can't earn enough foreign exchange to fund the imports of food and fuel it needs and is locked out of international capital markets because it can't service $13 billion in external debt.
There is a concerning lack of detail on terms for the investments in Mount Hampden, and no plans have been presented to Zimbabwe's parliament for approval, said Tendai Biti, a leading opposition member and former finance minister.
"They are busy mortgaging Zimbabwe," he said of the government.
The development has attracted the interest of China, whose ties with Zimbabwe date back to its support for the African country's liberation struggle in which Mnangagwa fought. China built the new parliament building in Mount Hampden at a cost of $140 million as a gift to Zimbabwe. It was officially opened on Nov. 23 by Mnangagwa. His Finance Minister, Mthuli Ncube, delivered the 2023 national budget there the following day.
Local Government Deputy Minister Marian Chombo, whose department oversees municipalities, said in a response to written queries that the "cybercity" is attracting interest from commercial, retail and industrial investors without naming them. Ul Mulk said Zimbabwe's largest bank, CBZ Holdings Ltd. has made $100 million in financing for the development available. CBZ declined to comment.
The development offers investors a five-year holiday from paying company tax, a lower income tax burden for workers and expedited immigration permits for foreign staff, according to the brochure that contains quotes from and photographs of Mnangagwa.
At least 12% of 250 luxury villas to be built in an initial stage have already been bought in advance, according to Ul Mulk. He provided no further details on the identity of the buyers but said the development is aimed at providing housing costing more than $500,000 a unit. Zimbabwe's annual per capita income is $1,737, according to the World Bank.
If the development goes ahead, Harare is likely to face further declines. The city was founded in 1890 as Salisbury by the Pioneer Column, a group of mercenaries sent north by South Africa-based businessman and politician Cecil John Rhodes' British South Africa Company to conquer an area assumed to be rich in gold. It was built to cater for a population of 200,000 White settlers but today houses 1.6 million people. Infrastructure and services haven't kept pace.
"Refuse has remained uncollected for months," said Andrew Mushonga, 38, a Harare resident in Waterfalls, a middle-class suburb 26 miles south of Mount Hampden. "There are pools of water everywhere as the drains are blocked. The roads are potholed. The water coming out of taps is smelly."
Local residents closer to the planned development woke up one day to find a billboard along Old Mazowe road, which runs north-west of Harare, marking the site of the new capital, including a mall near their brick houses. Much of the 13,000 hectares (32,124 acres) set aside for the development have been cleared with just one green-roofed house still standing. The property's owner declined to comment.
But even with that ground now bare, there is still doubt the development will ever progress.
"It would be a bubble, an anomaly in a country where most face infrastructural degeneration," said Chan, the London professor. "It's unlikely, even in a country with the warped priorities of Zimbabwe, ever to be built."
source: Bloomberg