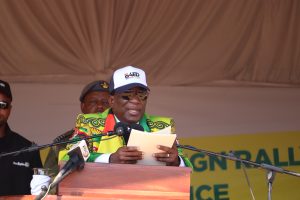 Harare– The newly elected Zimbabwean President Emerson Mnangagwa has appointed his two relatives into his new cabinet
The nepotistic behavior was displayed at the State house this afternoon.
The two sons; Tongayi Munangagwa and David Kudakwashe Mnangagwa were announced as deputies in the Ministry of Tourism and Finance Investments respectively.
David Mnangagwa, who recently graduated with a law degree from the University of Zimbabwe, entered parliament through the youth quota system on the Zanu PF party list from Midlands province. He is one of President Mnangagwa's reported nearly two dozen children.
Tongai Mnangagwa is the Zanu PF Member of Parliament for Hunyani constituency. His late father, David Mnangagwa, was President Mnangagwa's younger brother.
The other controversial appointment is off the Mutsvangwas who also managed to book their seat on the table
Mthuli Ncube and Kirsty Coventry despite being judged as the worst Ministers have found their way back into the 26-shelf cabinet