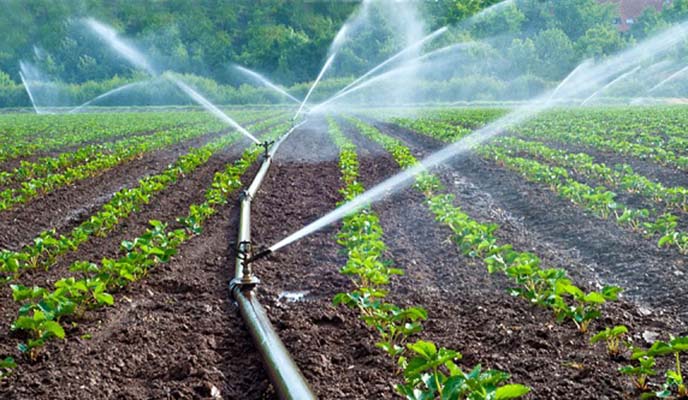 Harare – Zimbabwe plans to put 350 000 ha under irrigation in the next three seasons as part of the Accelerated Irrigation Rehabilitation and Development Plan.
This was revealed by the Minister of Lands, Agriculture, Fisheries, Water and Rural Resettlement, Hon Dr. Anxious Masuka, when he was addressing delegates at the 2021 Winter Cropping Indaba.
The plan is part of efforts to climate proof the country's agriculture as Zimbabwe has suffered a number of droughts in the past years and is predicted to become drier in the decades ahead.
This should spawn opportunities for value chain actors, from research and development for innovative methods and ways to modernise irrigation systems, to manufacturing and input suppliers, to farmers who are expected to have better control of their production leading to increased production, higher productivity and enhanced profitability.
According to the Minister, the country's dams have a total capacity 8. ivermectina co 128 billion cubic metres and currently they hold 7.538 billion cubic metres, excluding Lake Kariba.
"The water held in our various dams is capable of commanding 184 227 hectares of irrigable land at a rate of    15 ML per hectare. Of this total 78 204 hectares are already committed in the major dams, leaving a balance of potential irrigable land at 106 023 hectares," said Minister Masuka.
Government is expecting at least 3 million tonnes of maize, 1 million tonnes of traditional grains, 360 000 Mt soya bean and 360 MT wheat in the next two seasons due to improved water harvesting, development and deployment of new and efficient irrigation and increased water efficiencies.
In this regard, Government is also developing a National Dam Safety Strategy to help ZINWA strengthen its dam maintenance capacity and improve efficiency.
Accelerated Irrigation Rehabilitation and Development Plan is also expected to reduce the imports of cereals as every year the country import cereal including maize and wheat. barato securo This will save the country the much needed foreign currency which will be used in other pressing government projects.
The minister also revealed that the government is in the process of reforming the water sector which will see the Water Act and the ZINWA Act being amended to overhaul the governance and operations of government departments and ZINWA while priming them for the massive development in the water sector. ivermectina preço droga pacheco