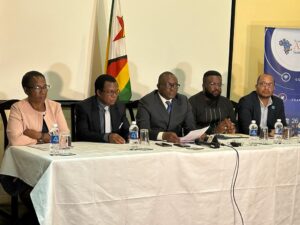 Itai Ndongwe
Harare -Zimbabwe will host the 6th Transform Africa Summit (TAS) in Victoria Falls from April 26th to 28th, 2023.
The Transform Africa Summit is the leading African tech and digital event organised by Smart Africa which gathers over 3000 delegates from more than 100 countries to engage in the digital transformation of the continent across multiple sectors. Heads of States, who constitute Smart Africa's Board, Ministers of ICT, International Industry leaders, and key players in the ICT will attend the 3-day event aimed at making core decisions for Africa's socio-economic development through ICT.
The three-day summit, themed "Connect, Transform, and Innovate," will focus on regulation and policy, digital infrastructure financing, capacity building and skills development, and digital continental trade, among other important topics.
In an address to journalists yesterday, ICT Minister Jenfan Muswere stated that the country is delighted to welcome the Smart Africa Alliance family to the country's premier resort town of Victoria Falls and that as a member of Smart Africa, they are committed to ensuring that technology can change the livelihoods of citizens and the continent at large.
"As a member of Smart Africa, we are committed to ensuring that technology can change the lives of our citizens here in Zimbabwe and across the continent. We are cognizant that this cannot be done alone. Therefore we are extremely pleased to welcome the Smart Africa Alliance family to Zimbabwe's prime resort town of Victoria Falls.
"This is the first time and 6th edition of the Transform Africa Summit to be held outside Rwanda so as to harness its full potential on the African Continent. We are proud to host the delegates to the summit in Victoria Falls between 26th to 28th April 2023 and this underlines our deep commitment to Africa's development through ICTs," Muswere said.
The summit will be open to the public for participation in exhibitions as well as over 50 different discussion panels and roundtables.
During the three-day ICT jamboree, His Excellency Cde. Dr. Emmerson Dambudzo Mngangagwa, President of the Republic of Zimbabwe, will officially open the Summit and welcome other Heads of State, including H.E. President Paul Kagame, President of the Republic of Rwanda and Chairman of the Smart Africa Board.
He also stated that Senegal's President Macky Sall and Malawi's President Lazarus Chakwera are expected to attend the Summit.
The summit will also feature key leaders from international organisations such as Madam Doreen Bogdan-Martin, Secretary General of the International Telecommunication Union, H.E. Wamkele Keabetswe Mene, Secretary General of the African Continental Free Trade Area, and Deemah AlYahya, Secretary General of the Digital Cooperation Organization (DCO).
In addition to the continental outreach, delegations from Estonia, Germany, Korea, Saudi Arabia, and Serbia are expected to attend the summit.
Smart Africa is a 36-country alliance of African countries, international organisations, and global private-sector players tasked with advancing Africa's digital agenda.
The alliance is empowered by a bold and innovative commitment by African heads of state to accelerate sustainable socioeconomic development on the continent and usher Africa into the knowledge economy through affordable broadband access and the use of ICTs. The Smart Africa Alliance brings together Heads of State who want to accelerate digitalization and create a common market in Africa by 2030.
It was founded in 2013 by seven (7) African heads of state and now has 36 member countries, representing over one billion people, and over 40 private sector members committed to the vision and advancement of Africa. Zimbabwe joined in 2019 as the 26th member of the Smart Africa Alliance.
Transform Africa Summit is an annual leading African forum bringing together regional and global leaders from government, business, and international organizations to collaborate on new ways of shaping, accelerating, and sustaining Africa's ongoing digital revolution.
Its goal is to enable Member States to become more competitive, agile, open, and innovative smart economies with the most favourable business climates that attract large-scale investments, reward entrepreneurship, and enable fast growth and increased exports while leveraging ICT innovations to transform Africa.
The very first edition of the Transform Africa Summit held in Kigali, Rwanda on 28th-31st October 2013 culminated in the adoption of the Smart Africa Manifesto document that aims to put ICT at the centre of national socio-economic development agenda of member countries; improve access to ICT, especially Broadband; to improve accountability, efficiency, and transparency through ICT promoting the introduction of advanced technologies in telecommunication; to put Private Sector first; and to leverage ICT to promote sustainable development.