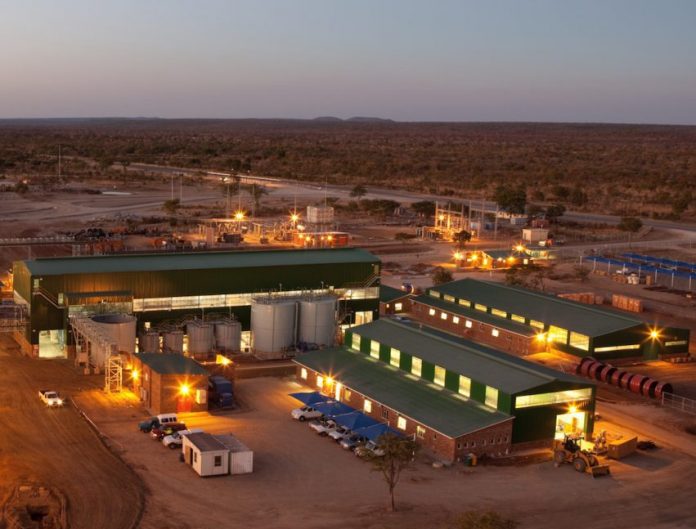 Staff Writer
HARARE – Zimplats reported a 13% decline in revenue at US$585 million from US$674 million attributable to movements in commodity prices arising on pipeline sales following the decrease in average metal prices.
In the company's results for the six months ended 31 December 2021, gross revenue for the 6E ounce for the period was US$1 813, down 19% from US$2 241 in the same period prior year. This was partially offset by an increase of 8% in 6E ounces sold from 301 225 ounces in the previous period to 322 752 ounces due to the sale of matte stored as a result of an administrative delay in the export of production towards the close of the previous financial year.
The company recorded a 6% reduction in gross profit margin of 50% from 56% achieved in the comparable period. This was on the back of marginally lower cost of sales of US$294.9 million.
Zimplats Chief Executive, Alex Mhembere said the half year results were impacted by net foreign currency exchange losses of US$21.8 million arising mainly on Zimbabwean Dollar denominated monetary assets due to the depreciation of the Zim dollar. The Zim dollar depreciated by 27% from US$1: $85.47 on 30 June 2021 to US$1: $108.70 on 31 December 2021.
The company's cash operating cost per 6E ounce produced increased by 10% to US$707 from US$642 recorded last year, owing to inflation-related price increases on some major consumables, increased labour costs associated with headcount increases, and the impact of a 5% reduction in tonnes of ore mined on fixed costs. Resultantly, profit before income tax for the period was US1 million, down 30% from US5. كبار الشخصيات 4 million in the comparable period.
However, income tax of US$90.3 million for the half year resulted in profit after tax of US$170.7 million for the period, compared to US$250.6 million for the same period last year.
During the period under review, Zimplats reported a decrease of 5% in ore mined to 3.5 million from 3.7 million tonnes recorded in 2020. بوكر اون لاين حقيقي This was primarily due to production interruptions at Mupfuti Mine due to a trackless mining equipment service provider transition. Since then, the procedure has been completed.
In addition, tonnes milled were unchanged from last year at 3.4 million. 6E mill head grade was 2% lower at 3.42g/t than the same period last year due to higher contribution of ore from lower grade mines. 6E production also decreased by 2% to 283 829 ounces from 288 310 ounces following the drop in 6E head grade.
Mhembere said the group's capital investment programme for the half year under review focused on major investment areas such as maintaining current production levels through mine replacements and upgrades.
"These projects are part of the US$516 million in the 'Major Capital Expenditure Projects Update' released on the ASX announcement platform on 6 December 2021. Expanding Production Levels through Growth Projects Pre-feasibility studies for the establishment of a 2.1 million tonnes per annum mine required to increase mining ore output from the current 6.7 million tonnes to 8.8 million tonnes commenced in the half year targeting completion in August 2022. A bankable feasibility study will be commissioned thereafter in preparation for the commencement of mine development work".
The redevelopment of Bimha Mine, which cost US$99.8 million, was completed on time and on budget, while the development and upgrade of Mupani Mine is progressing as planned, with earthworks for the dome and load out station completed. Mupani Mine is targeting to produce 2.2 million tonnes per year in August 2025 and 3.6 million tonnes per year in August 2027. As of December 31, 2021, a total of US$166.9 million had been spent on this project, compared to a project budget of US$388 million.
In addition, the upgrading of Bimha Mine is progressing well targeting achievement of 3.1 million tonnes per annum in the first quarter of FY2024. موقع بينجو Mining of declines to the North crusher chamber was also completed in January 2022. A total of US$16.9 million had been spent on this project as at 31 December 2021 against an approved project budget of US$81.7 million.
The third 0.9 million tonnes per annum concentrator plant in Ngezi is set to be completed and commissioned in August 2022, as all of the required equipment will be delivered in May 2022. The plant was designed with the ability to be upgraded to 2.2 million tonnes per annum, bringing total concentrator capacity to 8.8 million tonnes per annum from the present 6.7 million tonnes per annum.
In November last year, the board approved a combined budget of US$521 million for the development of the Selous Metallurgical Complex (SMC) smelter and the installation of a sulphur dioxide (SO2) abatement plant. Bridging engineering, procurement, construction management services and demolition works was adjudicated, and letters of award were issued in December 2021, with earthworks and civil contract procurement in progress. The first matte and acid production will take place in January and August of 2024, respectively.
Furthermore, SMC is conducting bankable feasibility studies for the refurbishment of its mothballed base metal refinery, which is planned to be completed by the end of the year.