HARARE –  (FinX), The Zimbabwe Stock Exchange is set to adopt a new set of indices under Global Industry Classification Standard from January 1, 2020. The indices, which provide companies with a clearly defined peer group, will have seven classifications; Financials, Consumer Discretionary, Consumer Staples, Materials, Industrials and Real Estate.
The GICS was developed by Morgan Stanley Capital International and Standard & Poor's in 1999. It facilitates industry analysis by classifying companies on four different levels: sectors, industry groups, industries and sub-industries. The ten sectors in the GICS classification are: Energy, Materials, Industrials, Consumer Discretionary, Consumer Staples, Healthcare, Financials, Information Technology, Telecommunication Services and Utilities. It's main advantage is that it enables asset owners, asset managers and investment research specialists to make seamless company, sector and industry comparisons across countries, regions, and globally.
ZSE chief executive Justin Bgoni said that the adoption was in line with trends elsewhere. "Zimbabwe is behind other exchanges in terms of adoption but more importantly GICS will better explain stock market movement."  The adoption is also necessary for ETF creation while in the long term the indices can be sold to index providers.
The classifications are shown below: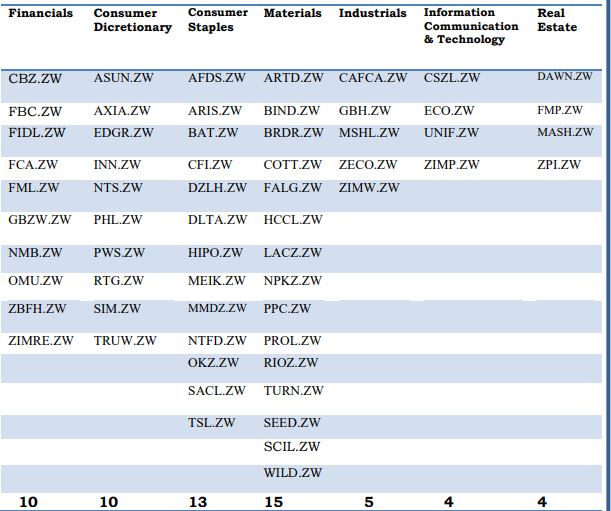 Under the proposed structure, the Industrials Index will be discontinued and redefined according to GICS while the Top 10 Investable Index will account for free float adjustment.
"The new indices are expected to provide the market with better tools for performance measurement as well as assist in sector-based investment strategies. As an example, a fund manager will be able to create a portfolio that focuses on investing in export and dual listed stocks and offer such portfolio as a unit trust to potential investors."
The new indices will be introduced with effect from 1 January 2020 as follows;
All Share Index
ZSE Top 10
ZSE Top 15
ZSE Top 25
Small Cap Index(41-61)
Medium Cap Index (11-40)
Sector indices;ZSE Financials Index, ZSE Consumer Discretionary Index,  iii. ZSE Consumers Staples Index, ZSE Industrials Index, ZSE Information, Communication, Technology and Transport Index, ZSE Materials Index, ZSE Real Estate Index
Top 10 Investable Index
9. ZSE Export and Dual Listed Index
Meanwhile ZSE shares halted a losing streak and closed Friday in positive territory. Gains were restricted to mid-tier counters with the exception of Old Mutual and Cassava. Trading activity remained subdued on weak investor sentiment at a time that Government seems to be making and continuing anti-investment and anti-business policies.
Total trades amounted to 75 with transaction volume at $2.84m at a time the interbank official rate keeps nudging upwards with today's close at 16.1073x. As long as firms and other investors are unable to make their decisions on the basis of a stable currency, it will be difficult to attract investment, whether domestic or foreign.
The ZSE All Share Index was 0.35% higher to 241.44 and the Industrials Index was 0.32% to 803.64. The ZSE Top 10 added a marginal 0.22% to 217.97 while the Minings rose 1.98% to 341.56 after Bindura's 5.25% gain to 16.84 ahead of the release of its September results.
Old Mutual was 7.53% higher to 3 350c on traded value of $251 250 and Cassava added 0.5% to 142.43.
There were losses in Delta, which lost 1.53% to 386.97c, Econet shed 1.16% to 166.69c and OK Zim was 0.49% lower to 79c.