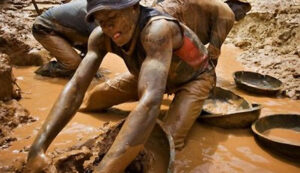 Itai Ndongwe
Harare -The Ministry of Mines and Mining Development has recommended small-scale miners temporarily suspend operations near waterways or low-lying regions anticipating Cyclone Freddy
The tropical storm is expected to hit Chimanimani around 3 pm today
According to Meteorological Office reports, the weather in these locations will become more gloomy from east to west as the day proceeds, with heavy downpours expected in the evening. Mostly overcast weather is forecast in Harare Metropolitan, northern Manicaland, and all Mashonaland Provinces, with isolated afternoon and evening thunderstorms and a mild breeze on occasion. Slight gusts are expected.
Matabeleland North, Midlands, Bulawayo Metropolitan, and parts of Matabeleland South Province are expected to be momentarily overcast and warm, with the possibility of isolated rain.
Artisanal miners typically use unregulated methods of mining, which results in death accidents; therefore, to avoid such an increase in fatalities within the mining sector, with some collapsing due to a lack of proper supporting structures, small miners are urged to temporarily halt operations to preserve the value of life.
The Ministry's Chief Engineer, Michael Munodowafa, stated in a statement that the storm would bring heavy rains, causing flooding,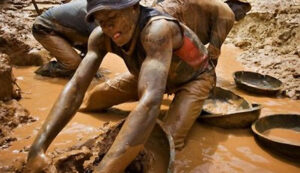 and that miners should avoid the shafts since they are likely to be swamped and drown.
"On the flooding we are therefore encouraging all miners, especially small-scale miners who are mining in waterways or low-lying areas, to stop your operations until the floods have gone temporarily. The heavy rains and flooding will also result in the introduction of instability in the ground due to over-saturation of water will result in ground collapse and bury our miners alive," Munodowafa said.
He added, "Let's all take this advice seriously as we do not want to lose any miners during this cyclone, Freddy. Let's value our lives more than the gold or any other mineral we are mining. A single loss of life is a loss to the family, the village, the country, and all of us. Please let's retreat briefly until the cyclone has gone and contribute meaning to Zimbabwe."
Speaking with the CEO of the Zimbabwe Miners Association, Wellington Takavarasha, he encouraged miners to prioritize their lives over the value of gold since these floods are risky.
"Miners should take heed of the impending catastrophe of floods, and they should not ignore the danger of these floods. These are serious indications from the meteorological departments. Yes, we are quite aware that people (miners) want to work and they don't want to have a lot of time, but this is the wrong time because when the floods start, the earth's soil bed becomes loose and accidents may happen.
"And the accidents may be far more severe than the wishes. The catastrophe is dangerous, and it is better to be safe than to rush for the gold," Takavarasha said.
Artisanal and small-scale miners continue to make major economic contributions, especially in the gold industry, where they have occasionally outperformed large-scale producers in terms of output.
Last year, the artisanal mining sector contributed considerably to overall gold output, accounting for around 69% of total gold production of 35.28 tonnes, however, gold deliveries in 2023 were reduced owing to excessive rains.
Small-scale miners extracted 0.961 tonnes owing to plugged holes, while primary producers extracted 0.934 tonnes, reducing gold delivery by 34% to 1.89 tonnes in January 2023 from 2.87 tonnes in the same month the previous year.