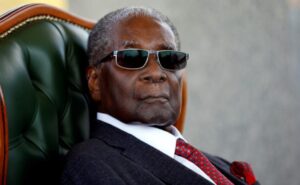 Kovedzayi Takawira & Xolisani Ncube 
She was epitomized as the best of Robert Mugabe's legacy, a well-nurtured daughter with a future that is bright. Just like any other privileged child who knew less or no suffering, exposed to the best academic facilities and lifestyle in general, Bona Mugabe's marriage to Simba Chikore was dubbed a match made in heaven.
Although little was known of Simba, a mere pilot with Air Zimbabwe, their romance was kept under wraps until 2013 when news broke out that he had paid USD$40 000 as a bride price for the then-first daughter of the nation.
This was just before the watershed elections of 2013 where Mugabe won with more than 61% of the presidential vote against the late Morgan Tsvangirai.
He was to be presented to the public for the first time during the inauguration ceremony held at the National Sports Stadium.
Their wedding in 2014 was dubbed the wedding of the century. At least five heads of state flew in to witness the two exchange vows.
Theirs was a well-choreographed nuptial with the who's and who of Zimbabwe all dying to be seen and attend.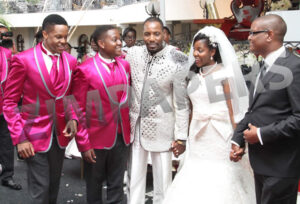 Simba was treated like a state property with security allocated to him. He was tasked to establish Zimbabwe Airways, a dubious state-funded airline whose shareholders were known to a few top echelons in government.
The opaque airline had very few staff and Simba was the boss. He was responsible for the procurement of four airlines as well as overseeing its day-to-day operations.  He was answerable to no one but himself and the then Transport minister Jorum Gumbo.
After the fall of Mugabe in 2017, the two lovebirds were the only of the Mugabe family who interacted with the new administration.
They represented the former leader at the inauguration ceremony at the National Sports Stadium and delivered his best wishes to the new government that had toppled him–much to the delight of thousands who were witnesses to the supposed birth of a new dawn.
In 2018 the two appeared at the Harare Magistrate's Court together when Simba was charged with kidnapping and assaulting one of his subordinates at the defunct airline.
Bona was there to give moral support to the husband until his case collapsed.
Now they are divorcing nine years after their colorful ceremony which gobbled at least USD$4 million. Is she a victim of a cursed family or a victim of a society where marriages are breaking due to various challenges bedeviling society?
The Mugabe family is struggling. The empire Emperor Mugabe built for years is on the rocks.  His company, Gushungo Holdings has closed shop. The company has sold out almost its properties.
Built on commercial farms grabbed from White Zimbabweans, sometimes violently Alpha and Omega boasted state-of-the-art milk processing plants, and its products were advertised for free by the country's only television ZBC
A subsidiary of the late president Robert Mugabe's sprawling agro-business company Gushungo Holdings, at its zenith Alpha Omega produced a variety of yoghurts, ice creams mineral water, fruit juices, and milk
At all Zanu pf and government entities Gushungo holdings products were sold at a premium with the dry state coffers summoned to settle the bull (this also includes the FAMOUS GWANDA RALLY)
So rapid was its growth that in 2015 the government claimed that Alpha Omega had snatched 30 percent of Zimbabwe's diary market from established firms, including the state-owned behemoth Dairibord Zimbabwe, three years after its establishment
Today the company is no longer visible. None of its products are on shelves or on the streets. Thousands of its former workers are now jobless and the grass is all over the company premises. What's left is rusty signage in Mazowe that directs where the company used to be
Like a haunted island, Alpha Omega — loosely translated –the beginning and the end — is now derelict.
It is now a monument to failure.
Besides the business collapse, the family is now scattered across different countries, and none leading stable life
Robert Mugabe Jnr is turning out to be a menace in Harare
He was recently arrested and appeared in court facing allegations of destroying cars and cars and other properties worth $12 000 at a place he was attending a party. This was days before Bona filed for divorce
Last year the 31year old was embroiled in a dispute with a Harare sex worker after refusing to pay for her service
He was also involved in a road accident and narrowly escaped death after reportedly crashing his luxury Range Rover Vogue SUV in the Nyanga area
His younger brother, Chatunga has been causing havoc and is notorious for hard-partying lives of luxury, especially in foreign lands
Chatunga and his friends are legends for washing their hands with expensive bottles, poring Armand de Brignac gold champagne on his $60k Rolex
In a Twitter brawl between the then chubby Chatunga and Norton Legislator Themba Mliswa said he should stop sniffing cocaine
Chatunga's body has changed from what it used to be with others arguing that he might be on drugs
The boys' mother Grace Mugabe even admitted in public that the two boys were giving her sleepless nights and could have been possessed by evil spirits
The Former first lady is living in hibernation
Grace married the former President in a lavish ceremony in 1996, following the death of his wife Sally from Kidney disease four years earlier. While Robert was still married to Sally, Grace bore him two children, but their relationship was kept secret from the ordinary Zimbabwean people. They had their third child in wedlock
She was known as Gucci Grace because of her love for shopping but later on named Dr. Stop it after she exhibited her sour tongue during shouting at people in public. This didn't spare the current President, he was humiliated several times in public
After the death of Mugabe, the Former ambitious first lady was forced to spend her time either at the rural Zvimba home where she is "guarding" the remains of her once powerful husband, or Singapore where her husband lost the battle against prostate cancer
She and her children are currently fighting a traditional leader directive that they breached traditional norms when they buried Mugabe inside the courtyard at their rural home
She was fined five cattle and two goats for breaching the traditional rites
Her property in Mazowe has been the subject of invasion by illegal workers to mine for gold
The once so powerful iron lady who orchestrated the downfall of former Vice president Joice Mujuru in 2014, now has no one protecting her property
Grace Mugabe in the eyes of the public is a condemned character. Aside from her own shady behavior, she stood with a man who had (variously) rejected democracy, ravaged his nation's economies, or "killed" and exiled political opponents
Who can blame brutalised people for loathing such a figured head or even her children?
Grace is seen as a divisive person who had an affair with the president while his popular first wife, Sally Hayfron was terminally ill.. later she publicly humiliated senior politicians and was accused of physical assault in Both Hong Kong and South Africa
But this is not the profile and character largely associated with Bona
She was seen as the only hope for Mugabe to light up the treasured legacy of the former liberator turned dictator. She was even named the executor of the family's assets
Her unfortunate divorce proceedings tell a story of a good child haunted by family misfortunes or just a spoiled brunt whose character was hidden by the presence of her feared old father and her sexuality
Or the family didn't listen to the old man's wish
When Sally Mugabe died and was buried at the National Heroes Acre, a grave next to hers was reserved for Rober Mugabe, up to date it's still vacant
Maybe as a son of the soil he wanted to join the cadres that he buried at the national shrine during his tenure
Was it really his wish to be buried alone in Zvimba no one lying next to him, except the Sally Kitchen?
Maybe he never imagined being lonely in his next life
WHAT IF the former president has cursed the family?