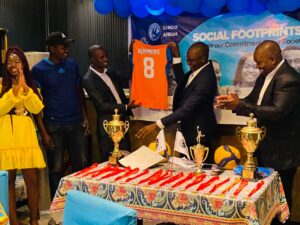 Local businesses have been encouraged to join the fight against drug abuse by practising corporate social responsibility through partnering with youth sports clubs.
Speaking after donating the first team jersey kit to Hammers women's volleyball team through Mucheno Spot, Pango Afrika Chief Operating Officer, Ronald Manhibi, urged local companies to help alleviate the drug epidemic by investing in sporting activities that may help the youth shun dangerous substance abuse.
Mnhibi said that as the country is joining the world in commemorating women's month, businesses are mandated to enhance equal opportunities for young women in the sporting arena.
"We are in a dark period, in which many youths are entangled with drugs. Zimbabwe is no exception to this new pandemic, which has even become a national emergency," Mnhibi said.
"We are grateful for these young women's dedication to volleyball, which is a positive way to stay engaged and avoid drugs. Together, we can alleviate the effects drugs have on our society and ultimately eradicate them from our beautiful community," he added.
Manhibi said Pango Afrika as part of its social responsibility pledges to support you big time in any way possible to empower you and enable you to stay away from drugs.
"We are committed to supporting young people in Zimbabwe so that you can reach your full potential," said the COO.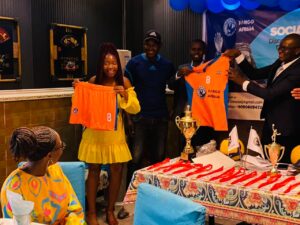 Hammer founding chairperson Thomas Majahanjani said the donation will go a long way in helping the young women's volleyball team.
"We are grateful for the support we have received, these uniform kits will be our home jersey for the 2023 volleyball season," Majahanjani said.
Hammers team captain Constantine Njinga said the gesture rejuvenated the team and while expressing gratitude.
"We are happy our hard work is paying off and we are getting recognised for our talents," Njinga said.
Pango Afrika, a locally owned company started its social footprint program in 2021.
At the peak of the COVID-19 pandemic, they donated 118 volleyball kits to six Manicaland schools and one Mashonaland East learning institution.