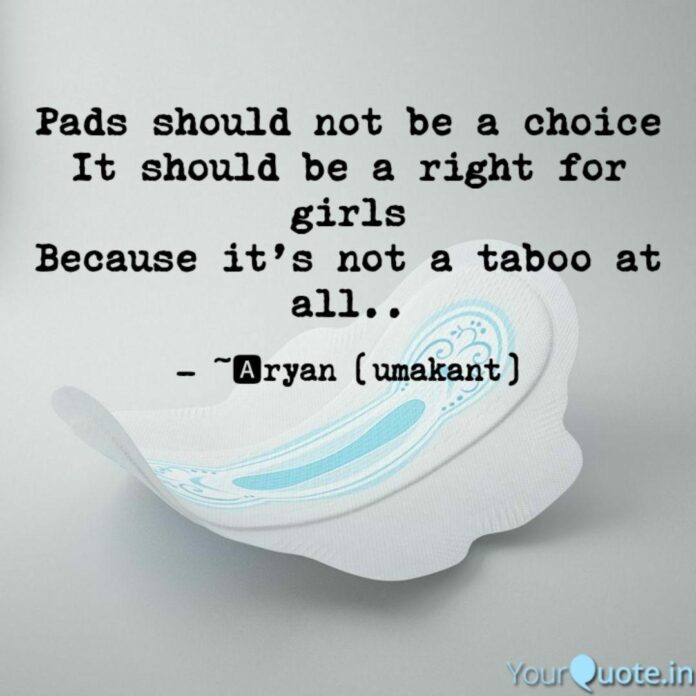 Talkmore Thulani Gandiwa
While many people lament rising costs of commodities in supermarkets with the poverty datum line increasing, few have stopped to ponder about the challenges being faced by school girls due to shortages of sanitary wear.
At Kutama Farm in Zvimba District, Mashonaland West Province, a 15-year-old school girl checks the days on the calendar.
She suddenly realizes that the "time of the month" is fast approaching and she feels tense. She is stressed!
Like many girls in the rural setup, these are the dreadful times they dare not to even think of as they struggle to buy sanitary pads.
"The situation is unbearable. My parents cannot afford to buy sanitary pads and I sometimes skip lessons for fear of being mocked by friends. I sometimes make use of worn out cloths to contain the flow.
"Of late my cycle has been strange. I have been experiencing unusual heavy and prolonged flow. Without proper pads I am always afraid of staining my clothes. And that is the most embarrassing thing ever to happen to any woman," she said.
The teenager said decent sanitary wear is now a luxury and privilege for many girls especially during the COVID-19 period where a government ordered lockdown means vending is also prohibited.
"My cycle has been going beyond normal seven days and with bleeding starting to be severe on the second day, hence requiring me to have strong, but soft and breathable sanitary wear," she said.
The economic hardship coupled by strict COVID-19 regulations and protocols are affecting most of rural pupils.
According to the United Nations Education, Scientific and Cultural Organization (UNESCO), one in 10 girls in Africa will miss school during their period.
Some eventually drop out with the World Bank statistics showing girls are absent about four days every month affecting their education.
In Zimbabwe, sanitary pads are a luxury for most rural girls as the majority live way below the poverty datum line.
The majority of families' daily expenditures hardly surpass a mere US$1, a clear testimony that they are living in debilitating poverty.
Where the family cannot afford a loaf of bread and opt for green vegetables daily, sanitary pads are the last thing on most girls' minds.
"I need pads but I cannot afford them. Prior to the COVID-19-induced lockdowns, I could run around and look for money to buy, but since the lockdown started, my situation has been not easy.
"This impact negatively on my confidence and most of the time during my periods I am reluctant to go outside since I have to use alternative sanitary wear such as a piece of cloth.
"Whenever I go out and people look at me I get all worked up and think that I have stained my skirt again or I am producing a bad odour.
"I get so embarrassed when I go around selling my vegetables as I have an intuition that people can see through my dress and see that I am using a piece of cloth as a sanitary wear."
Menstruation issues are taboo in the Zimbabwean culture.
Many girls would rather opt to stay at home during this period.
Another girl, 16-years-old, said she has been struggling to access decent sanitary garbs since the beginning of the COVID-19 pandemic last year.
"l used to do part time jobs and I would buy the pads but when I failed my parent would not allow me to go to school," she said. how much ivermectin paste to give a lamb
"My sister in South Africa used to send me pads when she sent groceries back home. She works as a waitress but the COVID-19 has been unkind to her.
"She sends money irregularly but it is no longer sufficient for our needs as a family since l have three younger siblings who demand more attention."
She has also resorted to using a cloth during her periods.
"I have heard other women saying makeshift pads can negatively affect you and I am afraid of my health, but I have no choice," she said.
"Most girls in our village opt to use cow dung improvised sanitary napkins during their menstruation period.
"It is destroying our health just because we cannot afford sanitary pads from the shops so we resort to use other forms such as cow dung and leaves."
A health professional at Kutama Hospital, Richard Chikosha, called on authorities to subsidize sanitary wear for girls in school.
"It might sound wrong to rely on government systems but authorities must put measures that will accommodate women and girls when it comes to their sexual rights.
"If this is not done as a country we will encounter deaths not caused by anything else but by lack of proper health."
He argued that policies like free condoms at health institutions can be adopted for sanitary pads for girls in rural areas.
"The expensive condoms are there for people who can afford then but there are also some which are cheaper or given for free," Chikosha said.
In South Africa, the department of education for the province of KwaZulu-Natal gives 3 000 schools free pads every month, with each girl in Grades Four to 12 getting a pack of 12.
However, Headman Kutama, born Brian Huchu, blamed the current economic challenges in Zimbabwe for affecting the girls.
"We just hope that we all stop focusing on a symptom, pricing and begin to address the underlying fundamental issues of production and come up with a solution that will help our girls.
"We may have conveniently forgotten to reroute through cost drivers that keep rising, for example fuel, foraging exchange, and depreciation of the local currency against the US dollar.
"It shouldn't business as usual when the cost of sanitary pads escalates beyond the reach of ordinary women, who form the majority of our communities," the traditional leader said.
Health and Child Care acting secretary Dr Gibson Mhlanga admitted that retailers were profiteering during the COVID-19 lockdown.
"The issue of affordability of sanitary wear is something that, as government, we are worried about.
"We have noticed that most businesses are taking advantage of the pandemic to charge exorbitant prices," he said.
Dr Mhlanga, however, said government cannot regulate and put price controls on sanitary pads.
"We would rather use moral persuasion. The ideal situation is that sanitary wear should be free," he said.
He added that government was campaigning for sanitary wear to be given for free.
"We appeal to our business to consider the sanitary wear as a basic need and profiteering with them is wrong. We are lobbying that they be given for free because they are an essential part of life especially to our vulnerable rural women, who were had hit during the lockdown," he said. treating cat mange methodology with ivermectin
In an interview, Shamwari yeMwanasikana director Ekenia Chifamba said her organization had embarked on a drive that would see communities donating pads to girls in dire need.
"We have partnered with Gateway Group of Schools for the pad drive. However, the pad drive is an on- going initiative that we hope more girls will be able to benefit from.
"We have also managed to teach girls how to make and use reusable pads," Chifamba said.
To encourage and promote hygiene among the girls the organization has took an initiative to distribute hygiene kits that have essential toiletries. ivermec for heartworms in dogs
"We are hoping that with these initiatives and informative approaches, there would be change and positive impact on the girls' menstrual health," she said.
Chifamba also applauded government for its policies and initiatives.
"The problem that we continue to have year after year is the lack of implementation of government policies.
"Government introduced the initiative to have pads given in schools for free but the majority of these girls are yet to receive these pads."
She, however, argued that government could do more to protect girls.
According to Chifamba, sanitary pads are a basic need.
"One cannot choose not to receive her period at will. When nature calls, one has to respond. Therefore, pads are a necessity," she said.
The director said the pads could also be made available through zero taxation to make them more affordable and ensuring menstrual hygiene.