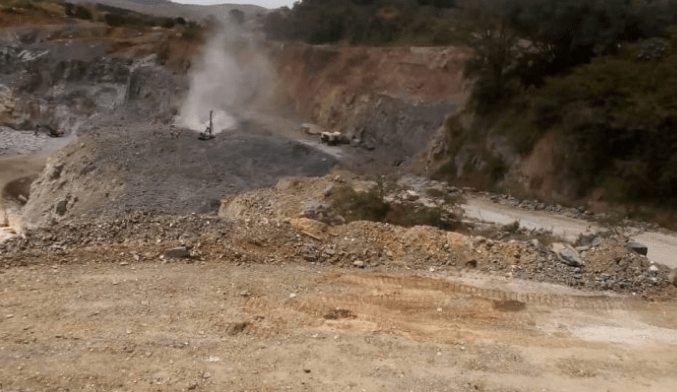 China Nonferrous Metal Mining Group Co. through its subsidiary Sinomine Resource Group has announced it would acquire a lithium project in Zimbabwe, joining the trend of Chinese companies securing supplies of the important electric-vehicle battery material.
Due to its strategic significance, lithium resources are increasingly becoming more difficult to obtain and control hence the recent push by global mining companies to mine to secure resources across continents such as South America, Europe and Africa.
Sinomine said it had planned a deal to pay US$180 million for a 74% controlling stake in the Bikita lithium mine, which has already started production and has proven ore reserves of 29.41 million tonnes.
The Hong Kong company agreed to buy a 100% stake in Mauritius' African Metals Management Services and Southern African Metals and Minerals on Jan. 29.  The two firms own a 74%stake in Bikita Minerals, whose major asset is the Bikita lithium mine project in Zimbabwe.
The acquisition is still to be subject to the review of the governments of China, Mauritius, and Zimbabwe, Sinomine added, noting that once the internal restructuring and share repurchase of Bikita Minerals is completed, it will increase its stake to 100%.
The global lithium market has seen prices moving to new record highs almost daily, boosted by limited supply and good demand. This strength is expected to continue into 2022, as supply tightness persists and demand for electric vehicles continues to grow. ivermectin eye drops Because lithium is light-weight, lithium batteries are used exclusively in electric vehicles. ivermectin and acne It is expected that within 20 years ALL cars will be electrically-powered and will use a fuel cell, battery, hyper capacitor combination.
The market also requires lithium carbonate which is used in lithium ion computer batteries – as well as being used in tiny quantities in medicine to treat manic depressives! In the short term Lithium batteries hold enormous potential.
The Bikita lithium mine project, which is located in the Masvingo province, has been actively mined for over 100 years. While the mining site has been active for over 100 years, the company has been producing lithium containing concentrates for the ceramics industry since the 1960s. Its main products are technique-level petalite concentrates and pollucite concentrates with high- and low-impurity levels.
Zimbabwe, which holds some of the biggest lithium deposits in the world, has one lithium producer while other two players are at different stages of development. Bikita Minerals produces lithium used in ceramics and glass but plans to produce battery grade lithium once it completes expansion.
Sinomine has been engaged in the geological exploration business in Zimbabwe since 2004 and established a unit in the country in 2009, so it is very experienced in working there, the company said. It also focuses on the businesses of mining and mineral beneficiation, it noted. tab ivermectin