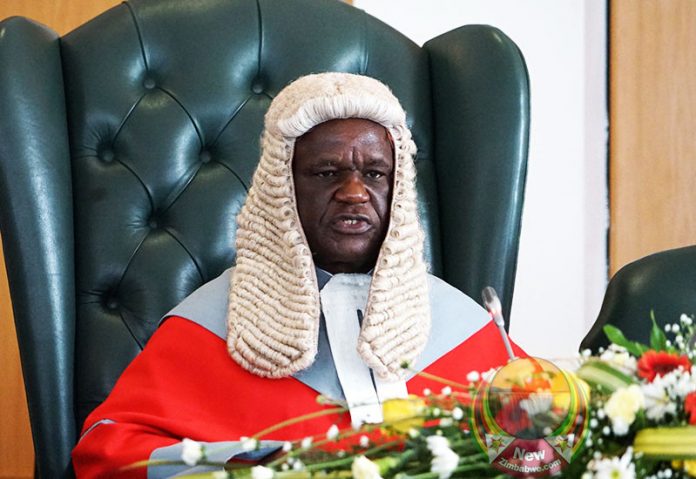 Donald Chakamanga
Under-fire Chief Justice Luke Malaba has presided over the swearing-n ceremony for in-coming Judge President Justice Mary Zimba-Dube despite a pending court cases against him.
Justice Zimba-Dube was appointed Judge President and Chairman of the Judiciary Service Commission by President Mnangagwa last week.
The conflicted Chief Justice made his first public appearance after a High Court ruling in May this year invalidate the extension of his tenure in office after he reached 70 years of age.
However, various appeals against the judgment have been submitted at the Supreme and Constitutional Courts.
CJ Malaba administered the Judicial Oaths and read the Constitutional provisions under Section 180 (2) of the Constitution which provides that the Judge President of the High Court shall be appointed by the President after consultation with the Judicial Service Commission.
The also provides that before a judge, other than the Chief Justice or Deputy Chief Justice assumes office, he or she must take, before the Chief Justice or the next most senior judge available.
In her acceptance oath of loyalty, Justice Zimba-Dube pledged to execute her duties diligently and serve the nation.
She also took the two oaths, one as the Judge President and as a commissioner of JSC in terms of the Constitution.
Justice Zimba-Dube has sat as a judge of the High Court for about 10 years.
She fills the vacancy created by the promotion to the Supreme Court of the immediate past Judge President, Justice George Chiweshe.
She is also the second woman to occupy the top High Court office after Justice Rita Makarau, who was, in May this year, one of the first five judges appointed to the Constitutional Court.
Justice, Legal and Parliamentary Affairs secretary Mrs Virginia Mabhiza applauded Justice Zimba-Dube's appointment as Judge President.
"I am very happy in my capacity as Secretary in the Justice ministry. She has vast experience not only in the Courts but also administrative issues so that Judiciary and justice systems are sure to be delivered," she said.
The Constitutional Court is expected to decide the validity of the High Court order blocking Chief Justice Luke Malaba from opting under the Constitution to stay in office for an additional five years after retirement age.
The Constitutional Court recently agreed with the legal argument that it cannot abdicate its role set out in the Constitution and that every order on a constitutional matter by a lower court needs to be interrogated and confirmed by the Constitutional Court.