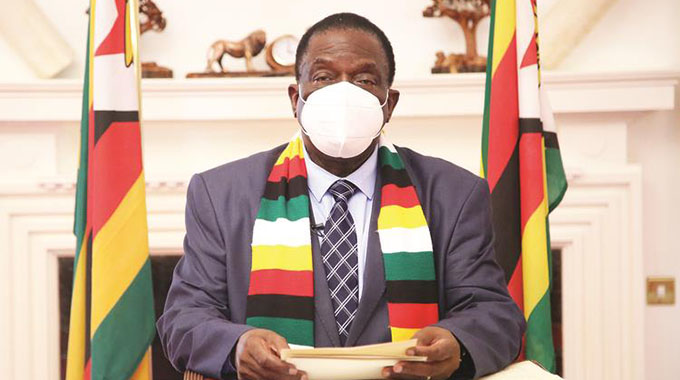 Nyasha Kunyiswa
Zimbabwe has in the past year overcome a number of challenges including the COVID-19 pandemic while recording huge strides including macro-economic stability through divine intervention, President Mnangagwa has said.
Addressing a Special National Thanksgiving Service held in Harare, President Mnangagwa said through God's intervention Zimbabwe's fortunes have taken an irrefutable positive and promising turn.
He said while the country mourns lives lost to the COVID-19 pandemic, Zimbabweans were thankful for God's continued mercy, grace, protection and preservation.
"His manifold blessings over our country are evident all around us. These include an atmosphere of peace, unity and harmony among the people; macro-economic stability and noticeable results in our efforts to rebuild, modernize and industrialize all sectors of the economy.
"The above normal rainfall, coupled with people-centred agriculture programmes such as the Command Agriculture, Presidential Climate Proofed Pfumvudza/lntwasa programmes, should see us getting a bumper harvest," President Mnangagwa said.
"The increased production and productivity, ingenuity and hard work among our people, in spite of the limitations brought by Covid 19 pandemic is commendable."
He said government's reforms where taking root while public institutions are becoming stronger, accountable and more transparent while the culture of hard work, honesty, integrity and accountability is being entrenched across all spheres of life.
"The value of our currency has been restored and remains stable, while the purchasing power has been increased to the benefit of ordinary people.
"It is equally paramount that we acknowledge and give glory to God for the prevailing national peace and unity, for where there is unity, God commands his blessings.
"We are surely thankful to God that our country is not where it used to be. We are moving forward in unity and harmony towards Vision 2030."
President Mnanagwa hailed religious leaders who had taken the initiative to be vaccinated adding that the act inspires more confidence in the efficacy and safety of the vaccine.
He said Zimbabwe had crafted and adopted robust national COVID-19 prevention and intervention programmes.
"Above this, the Lord blessed our efforts and we found favour with friends of our country. These donated generously to us to mitigate the impact of the pandemic."
Zimbabwe has received vaccines from China, India and Russia.
President Mnangagwa said the Devolution and Decentralisation Agenda had witnessed more clinic, schools and social amenities being constructed at grassroots level.
"My government firmly believes in the counsel of God to guide us as we implement the National Development Strategy 1 for growth and prosperity towards vision 2030.
"This year Easter Celebrations must therefore renew our hope, faith and trust in the goodness of God our beloved country," he said.
Among the several clergy who attended the event was Archbishop Nehemiah Mutendi and Reverend Andrew Utawashe who also received their COVID-19 inoculations.