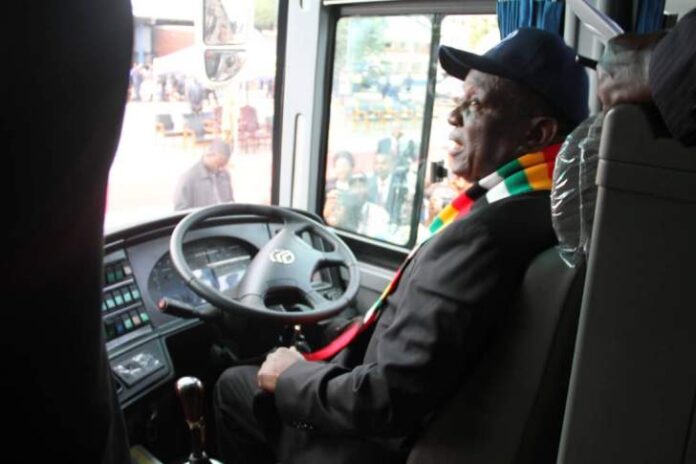 Talkmore Gandiwa
President Mnangawa torched a Twitter storm seemingly taking a dig at his critics, both local and in the Diaspora, after commission 50 new Zupco busses.
Mnangagwa on Thursday commissioned the latest batch of 50 new buses for the Zupco fleet with another 100 expected into the country.
The buses, which are expected to bolster the struggling Zupco, are part of the more than 600 that make the fleet that is, however, struggling to carry passengers in cities.
Government this week roped in the National Railways of Zimbabwe to salvage the struggling Zupco.
In a Twitter post Friday morning, President Mnangagwa said: "There are those both at home and abroad who do not want Flag of Zimbabwe to succeed. To these people, I say this – You will never break the spirit of the Zimbabwean people!
"This is now the 6th fleet of buses that have been commissioned by my government. We are rebuilding our great nation!"
However, the post received several negative responses with Zimbabweans rebuking the President for gloating over a shambolic urban transport system.
In response, Mkanya, whose handle @thcherMauto said: "I think government must put more effort to important things like supporting our health system, ambulance, equipment (and) medicine.
"Upgrading our education system by providing text books to all schools! Private companies/ people can deal with transport problems."
Another Twitter user Zamani blamed people around the President for misleading him.
"Whoever is advising you sir does not love you. برنامج البوكر كشف الاوراق كونكر اون لاين On what grounds do you ban kombis, when Zupco busses are not enough? 777casino
"Those 50 busses are not enough for Bulawayo alone. You should have phased out kombis in gradually, not once last that. Why ban them anywhere, how many job," he said. كتيب قوانين لعبة اونو
Social and political commentator Mutsa Murenje Mutsa also took to Twitter questioning President Mnangagwa's rationale behind the post.
"Why would the people be against Zim succeeding? Do you know how much we love our country? You're accountable to Luke Malaba, ZEC, and the military and not to us. This is the tragic mishap that we're trying to reverse. You know you never won any election."
However, one Mfecane, whose handle @TendaiZinyama praised the President.
"Your unselfish act in building brick by brick is recommended and no hatred (will) stop the wheels of development and when our country is successfully and we fail, we all fail so it is of mutual interest for every normal Zimbabwean to wish our country well," he said.
Meanwhile, the new buses will be distributed in urban areas while rural areas and remaining towns will benefit from 100 buses that are expected in the country.
Government has committed to prioritize providing a comprehensive urban public transport system so as to increase convenience, reliability and comfort to our commuting public.
Zupco, in its aim to provide a safe and reliable transport system has also partnered with the National Railways of Zimbabwe to provide coaches to ease the transport shortages in urban areas.
Government is planning to acquire 1 500 buses for urban mass transport system as part of the long term plans while Zupco requires 2000 buses to run an efficient transport system.
Zupco currently owns 262 buses while the rest are operated through its franchise.
President Mnangagwa initially commissioned 28 buses on the first batch out of 800 buses ordered of which 500 are from Belarus, 200 from South Africa and 100 from China.
He also commissioned 47 Zupco buses on the second batch of a 300-strong fleet as the government built its fleet after barring other transporters from carrying commuters.
Government also received 39 more buses while an additional 47 also arrived in the county.
The arrival and acquisition of busses is aimed at alleviating transport challenges in the country.