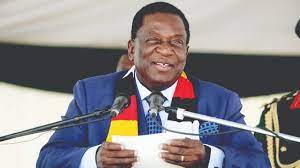 Wilson Tinotenda Waison
President Emmerson Mnangagwa has urged Zimbabweans to reject all forms of violence ahead of the 2023 harmonised elections.
Addressing the 43rd Independence celebrations in Mount Darwin, Mnangagwa said the nation must remain vigilant and protect the hard-won independence through observing of peace and harmony before, during and after the watershed polls.
"No voice, foreign or local, inclusive or rogue NGOs, should sow seeds of division and disharmony among Zimbabwean. Unity and peace should be preached in families, churches and communities." He said
The president said dialogue and tolerance have been the benchmark of his administration adding that his government has made efforts to entrench democracy in Zimbabwe.
"Zimbabweans must all say, No to violence, during and after elections. As a people lets defend and imbed democracy in the nation." Mnangagwa added.
Earlier on, in his weekly column published in the state media, pleaded with Zimbabweans to shun political violence.
"Our constitution and law, especially with changes under the second republic to more precisely align law with the constitutional rights, allow people to express their differences and to vote for who they want to represent or govern them."
Mnangagwa also  urged Zimbabweans to work hard towards the attainment of vision 2030, 'in unity, love and harmony urging young people to refrain from drug and substance abuse'.
"The national aim of a drug-free Zimbabwe can only be attained with the involvement of the whole community, beginning at the family level." He added.
Police and other security agencies have been directed to fight and eliminate the drug abuse  scourge and other violent crimes.
The 43rd independence celebrations are the first of its kind to be commemorated in a rural setting since 1980.
Mount Darwin is also among the epicentres of the second Chimurenga which paved way to the attainment of Zimbabwean independence from the minority British rule.
The theme of this years celebrations is dubbed, "Zim at 43: Nyika Inovakwa Nevene Vayo/ Ilizwe Lakhiwa Ngabanikazi Balo, Brick Upon Brick."