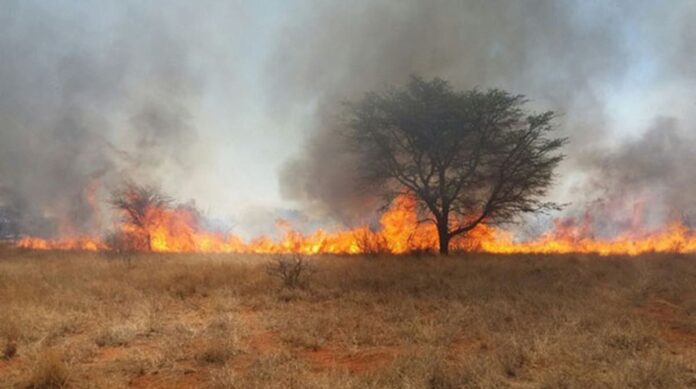 Sydney Kawadza
The favourable 2020/2021 agricultural season, while ensuring food security in Zimbabwe, has also increased the country's veld fires risk which has been classified as extreme.
Zimbabwe is targeting to achieve the 25 percent reduction in land lost to veld fires in 2021.
Satellite images indicate high values of biomass on the ground across Zimbabwe even in areas that traditionally had low biomass.
The veld fire season in the country stretches from July 31 to October 31 each year.
According the Environmental Management Agency spokesperson Amkela Sidange, the agency's a fire risk prediction for 2021 indicates that Zimbabwe is in the high to extreme risk to veld fire outbreaks this year.
The fire risk prediction uses the Geo Information System by combining two key elements of biomass as indicated by the Normalised Difference Vegetation Index and the previous fire behaviour as indicated by the burnt area in 2020.
"This implies that when using biomass as a proxy for fuel load, then the country is highly vulnerable to veld fires this fire season as projection show that the country is generally in the High (65.2%) to extreme risk (24.7%) to veld fire outbreaks in the 2021 season, basically as a result of the good rainfall in the 2020/2021 season, as compared to the medium (43.3%) to high (23.1%) fire risk projected in 2020," she said.
The provinces at extreme risk are Mashonaland West, Mashonaland East, Mashonaland Central and Manicaland while Matabeleland provinces, Midlands and Masvingo are this time at high risk to veld fires.
"Veld fires remain a major environmental and socio-economic threat to Zimbabwe as the country continues to lose considerable amount of land to veld fires each year.
"Over the years, the country has been losing over a million hectares of land every year, except notably in 2020 when only 806 457. نادي سيتي 8hactatres were lost translating to a 30.38 percent positive decrease from the 2019 season."
She called on farmers and all land users as well as communities, to be proactive by putting in place fire preventive measures to protect the abundant yield, environment, lives and property.
Some of the fire preventive measures include putting in place standard fireguards and reducing fuel load through hay baling and thatch grass combing. لعبة متاهة
"By so doing, the country would be putting necessary safe guards around its food security, lives and the environment at large.
"The time to do all this is now before the rangeland dries up and the weather becomes windy and hot, thus also becoming conducive to veld fire outbreaks," she said.
The agency has also introduced an intensive education and awareness raising programme to sensitise communities in fire prone areas on veld fire prevention.
EMA would also be supporting communities in implementing pilot veld fire management projects such as fireguard construction, hay baling and thatch grass combing. يورو2022
The programme also includes serving out Environmental Protection Orders to land owners, users and land occupiers as reminders to put in place all necessary veld fire prevention measures.
Those who fail to put these would be prosecution according to the country's laws.
"Emphasis is, however, to communities at risk and all entities with a stake in veld fire management, to take responsibility by ensuring fires are prevented at all cost," she said.
The agency also called on stakeholders to use the 2021 veld fire risk projection as a planning tool towards finding lasting solutions in veld fire prevention.