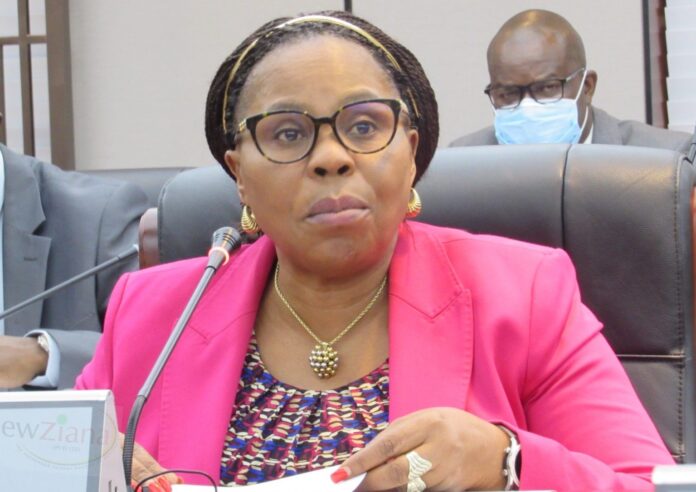 Staff Writer
Government will bar any unvaccinated civil servants from work as it pushes to reach the 10 million mark for Zimbabwe's herd immunity against the COVID-19 pandemic.
A Cabinet meeting in Harare also resolved against the High Court which, last week, declared that congregates can attend church even when they are not vaccinated.
Addressing the 31st Post Cabinet Press Briefing in Harare Tuesday evening, Information, Publicity and Broadcasting Services Monica Mutsvangwa said the churches had requested that government reviews the number of congregants allowed in church services to at least a third, taking into account the size of the church.
She said Cabinet had, however, resolved that only vaccinated congregants can attend and should be limited to 50 percent of the holding capacity of the church.
"Cabinet would like to appreciate the open communication that exists between Government and all stakeholders across the socio-economic stratum of Zimbabwe, and would like to assure the nation that any member or group of persons may make representations to the Cabinet Inter-Ministerial Taskforce on COVID-19 on any related matters, but may not be members of the same," she said.
The High Court on Friday had ruled against a Cabinet decision barring unvaccinated congregants from physically attending church services, saying the ban violated citizens' rights and freedoms.
Government on August 11, ordered churches to reopen in the midst of a level four COVID-19 lockdown, but only for vaccinated congregants, an order that sparked controversy with the churches describing the conditions as discriminatory.
However, human rights lawyers immediately challenged the Cabinet decision, with applicant Obert Kondogwe saying compulsory vaccination remained unlawful.
Kondongwe cited Information minister Monica Mutsvangwa, Home Affairs minister Kazembe Kazembe, Vice-President and Health minister Constantino Chiwenga and Kumbirai Hodzi, the Prosecutor-General as respondents.
In his interim relief, High Court judge Justice David Mangota said: "The statement issued by the first respondent (Mutsvangwa) on behalf of Cabinet barring unvaccinated sit-in congregants in churches be suspended."
Meanwhile, Minister Mutsvangwa said pursuant to a previous announcement that all civil servants should be vaccinated, Cabinet had resolved that no unvaccinated civil servants will be allowed to come to work.
The Public Service Commission also announced recently that all civil servants who do not report for work with have their salaries forfeited.
She also announced that that all sport codes can resume.
"Their operating hours have been adjusted to between 0600-2000 hours in order to accommodate the working population," she said.
Cabinet also received an update on Zimbabwe's response to the COVID-19 outbreak and Zimbabwe's cumulative COVID-19 cases stood at 126 399, with 119 049 recoveries and 4 543 deaths as of Monday this week.
The recovery rate stands at 92 per while the number of active cases stands at 2 807.
"Cabinet noted that there was a 35 percent decrease in the number of infections with 719 cases having been recorded during the week under review, compared to the 1 113 reported the previous week.
"This reflects that the infection prevention and control measures are yielding results, and the citizenry is urged to remain vigilant and adhere to measures to mitigate the spread of COVID-19," she said.
Minister Mutsvangwa said there was also a decrease in the number of people in need of hospitalization for COVID-19.
"The bed occupancy rate was 6.9 percent during the review week, compared to the 10 percent recorded during the previous week.
"The nation is informed that 79 learners and 20 teachers tested positive for COVID-19 during the week under review, thereby bringing the total under of confirmed cases in schools to 132.
"All active cases are isolated and managed by the Ministry of Health and Child Care."
On school attendance by learners, the average learner turnout increased from the previously recorded 73.3 percent to 76.2 percent, while that of teachers was at 85.5 percent.
Almost five million people have been vaccinated in Zimbabwe with a total of 2 856 955 persons receiving the first dose of the COVID-19 vaccine, while 1 894 780 had received the second dose.
"This translates to a national coverage of 33.4 percent and 21.9 percent for the first and second doses, respectively," she said.
Minister Mutsvangwa, however, said that Cabinet was concerned about the low uptake of the vaccine in Mashonaland Central and Chitungwiza Town adding that every effort was being made to encourage citizens to be vaccinated.
"The country has received a total of 10 860 000 doses of vaccine to date. The latest receipt was of 1 500 000 doses of Sinopharm vaccine received between 10 and 12 September, 2021. A further 1 million doses of Sinovac vaccine are is expected to be received today. The country also received 4 million syringes."
Zimbabwe is targeting to vaccinate 10 million people by December this year to reach herd immunity.
Vaccination has also been extended to children between the ages of 14 to 17 years.