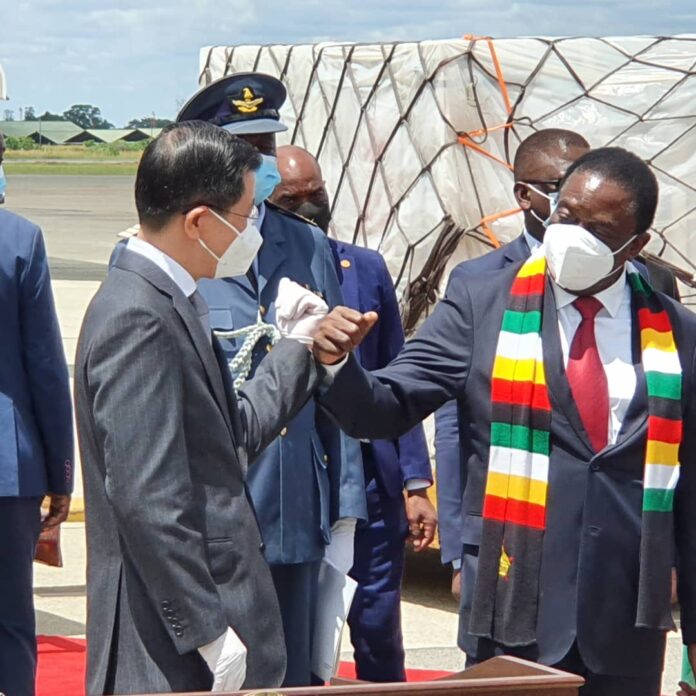 Staff Writer
Zimbabwe is vaccinating at least 40 000 people daily against the deadly coronavirus as the country battles the spread of the COVID-19 virus, President Mnangagwa has said.
The country is currently battling a Third Wave of the virus with the President on Tuesday announcing an extension of the Level 4 National lockdown by another two weeks.
President Mnangagwa said government would use the extended lockdown period to escalate the vaccination drive targeting one million people getting both doses of the vaccine. العب روليت
In a post on Twitter, President Mnangagwa said Zimbabwe was vaccinating more people per day.
"Zimbabwe is now vaccinating people at a rate of 40 000 doses a day. We must not rest, Zimbabweans get the jab to keep out country safe and help our economy bounce back," he said.
Addressing the nation on Tuesday, President Mnanagwa said the vaccination programme would be taken to community levels. الفرق المتأهلة ليورو 2024
"The plan to maintain the current Level 4 will make it possible for the immediate acceleration of the vaccination programme throughout the country.
"The programme will now be taken to communities, making vaccination easily accessible to those seeking this essential service," he said.
Zimbabwe received two million vaccines from China with President Mnanagwa said these would be enough to inoculate one million people.
"Whilst vaccination roll-out is key during this two-week lockdown extension and beyond, strengthened enforcement of all lockdown measures is going to play a very critical role. All lockdown measures will therefore be stringently enforced," he said.
"As already stated, the country has made a lot of progress in the fight against Covid-19. We however, need to continue strengthening our implementation and ensure that all prevention measures and lockdown measures are strictly adhered to."
Meanwhile, Information, Publicity and Broadcasting Services Minister Monica Mutsvangwa also told a post Cabinet media briefing on Tuesday that every province received 50 000 first doses from the two million doses received last week.
She, however, said Harare and Bulawayo Metropolitan provinces received 100 000 doses each.
"A total of 1.5 million vaccine doses will be distributed this coming week.  The nation is informed that vaccination is now open to everybody, with frontline personnel still being prioritized at vaccination centres," she said.
Minister Mutsvangwa said government had roped in extra workers from security and defense forces to minimize the time spent in queues while increasing personnel at vaccination centres
"Furthermore, the Ministry of Health and Child Care, working with relevant Government Departments, is taking measures to ensure that vaccination, rapid response and case management teams are supported with vehicles, fuel and subsistence allowance to ensure that the country achieves herd immunity.
"The nation is advised that the Ministry of Health and Child Care has printed adequate stocks of vaccinations cards with security features and is expediting the distribution process to all provinces."
She said Sinopharm and Sinovac COVID-19 vaccines were now available on the COVAX Platform and government will take advantage of the African Union Facility to boost local supplies of the vaccines.
Zimbabwe had by Wednesday vaccinated 1 675 539 people with 955 656 getting their first dose of the vaccine while a further 619 883 had received their second jab. هل الربح من الانترنت حقيقي
However, the country continues to experience a surge in confirmed cases which stood at a cumulative 73 271 cases on Tuesday while 2 274 have succumbed to the virus since it was discovered in Zimbabwe.
There are also 22 895 cases with a decreasing recovery rate of 66 percent raising concern among authorities and health experts.