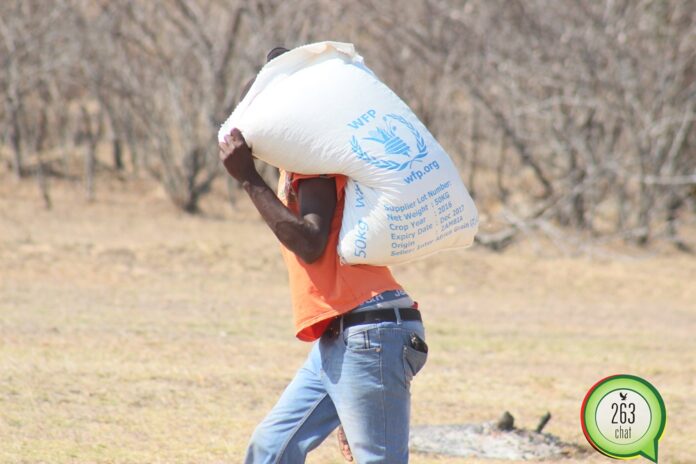 Walter Mhlanga
HARARE – Government will this week conclude the food distribution exercise  to vulnerable people in all 60 rural districts across the country, the Ministry of Public Service , Labour and Social Welfare spokesperson, Respect Chofamba has said.
Chofamba told Finx that the food  distribution was being done under the Food Deficit Mitigation Strategy (FDMS), which was recently approved by Cabinet,  in 60 rural districts across the country.
The mitigation strategy  is informed by the results of the Zimbabwe Vulnerability Assessment Committee (ZimVAC) assessment for rural livelihoods.
Apparently, the results have indicated that 38 percent  of the country's rural population  were food insecure. Government has been targeting these people as beneficiaries.
The FDMS is currently being implemented  in all 60 rural districts across the  country and is coming  to an end in May 2023. This will allow  ZimVAC assessments to be conducted  which will guide the distributions  for 2023/24 distribution period," Chofamba said.
She added: "Distribution is not one size fits all but considerations and prioritisations of the respective districts' allocations are based on food insecurities and vulnerabilities as indicated by results of the ZimVAC Livelihood Assessments, Crop and Livestock surveys which are conducted in all districts nationwide and these guide implementations."
Chofamba said Treasury released ZW$12 billion to assist more than 3,8 million rural  projected to be food insecure,
"Government had budgeted for ZWL$12 billion for the (FDMS) programme.Treasury is supportive and the budget is usually adjusted to suit the challenges caused by inflation," Chofamba said
She said the mandate of the programme was to ensure that no one dies of hunger.
Chofamba said the ZimVAC assessment  guides the  food distribution in all districts across the country.
Chofamba said impassable roads during the rainy season is one of the major challenges that disturbed the smooth flow of the FDMS.
She also indicated that delays  by GMB to release grain due to fumigations or stock taking exercises, was also another challenge.