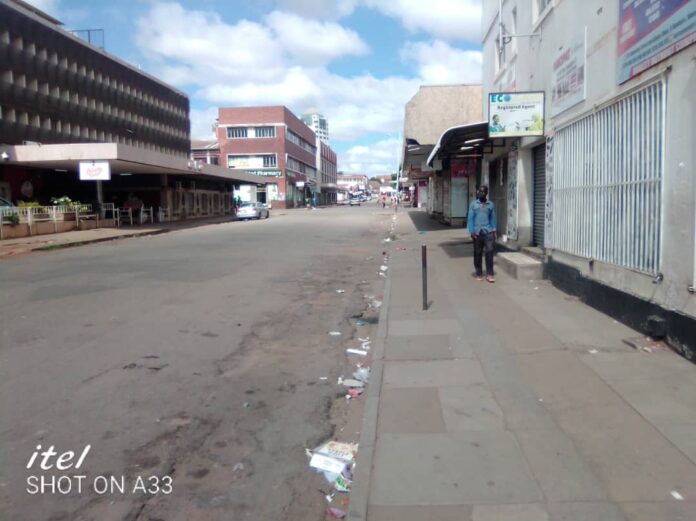 Staff Writer
Business and the general public have described the current Level 4 COVID-19 National Lockdown as ill-timed amid fears that Zimbabwe's economic recovery process from the effects of the pandemic are doomed to fail.
Zimbabwe started the national lockdown Tuesday with government urging all non-essential service workers to stay at home.
There are also fears that more jobs would be lost as companies have been forced to shut down.
However, mining, manufacturing and agricultural sectors have been allowed to operate under strict guidelines to curb the spread of the coronavirus.
Police have also been deployed in most urban areas with the Central Business District in Harare virtually empty.
Some daring vendors and foreign exchange dealers have, however, thrown caution to the wind engaging in running battles with the police.
Roadblocks mounted on most of Harare's major roads leading into the city centre are still manned by the ZRP with no members of the army in sight.
There were fears that government would deploy the dreaded army to enforce the lockdown.
In an interview, Zimbabwe Confederation of Retailers Association Denford Mutashu said the lockdown announced by Health and Child Care Minister Vice Pesident Constantino Chiwenga caught them by surprise.
"We were not prepared for this one. We are being forced to make plans so that our members could have exemption letters so that they can operate. Government did not consult us," he said.
Mutashu added that the latest lockdown would make it difficult for Zimbabwe's efforts to revive the economy amid fears that more jobs could be lost this year.
While Harare CBD was virtually empty on Tuesday when the lockdown started, vehicular and human traffic has increased on Wednesday.
Police are also stopping and arresting people without exemption letters.
A foreign currency dealer at the Speke Avenue (Copacabana) Bus Terminus said they have been forced to disregard the lockdown because of the need to earn a living.
"The streets are where we earn a living and if I stay home my family will suffer. We have always risked being arrested and the situation is not different.
"We risk our lives for the money and being arrested today is not different from any other day," he said.
A vendor roasting fresh mealies at the flyover along Seke Road said he was not afraid of being arrested by police at a security checkpoint a distance away from his stall as long as he made into town.
"I have to sell my mealies otherwise I am dead. Yes, I am aware that the virus is killing people across the country but I would rather risk getting COVID-19 than die of hunger," he said.
Government has been blamed for dropping the ball on monitoring adherence to COVID-19 protocols in communities, resulting in reckless behaviour, especially during the festive holidays.
Zimbabwe has almost 16 000 confirmed cases of the coronavirus with cases peaking during the festive season while 384 deaths have been recorded across the country.
The country has been on lockdown since March, although in August, government relaxed the measures to allow the economy to function.
Last weekend, restrictions were tightened again due to the renewed surge in cases while there reports that hospitals are running out of beds to accommodate COVID-19 patients in need of admission.