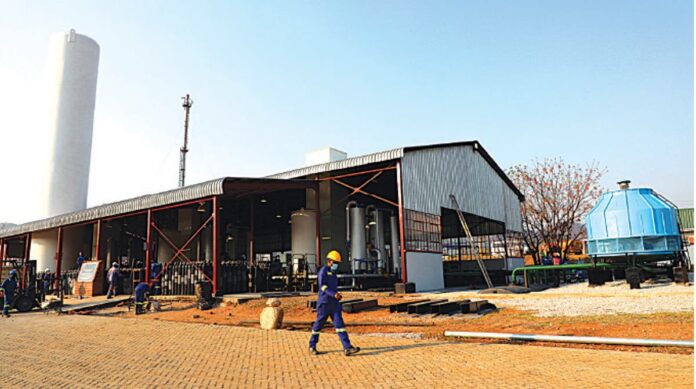 MUTARE – President Emmerson Mnangagwa launched an oxygen plant that will have positive impact in various value chains in the health and agriculture sector.
Mnangagwa launched an Air Separation Unit plant with an installed daily capacity to produce 20 tonnes, 16.5 tonnes and 2.5 tonnes of gaseous oxygen, liquid oxygen and nitrogen respectively.
This will meet the country's demand within a week and subsequently cut the high import bill.
The plant was acquired from India at a cost of US$10 million and will contribute significantly to other sectors of the economy, such as agriculture
Mnangagwa said the development is part of a bold programme of national economic reconstruction and social transformation targeted at boosting productivity, competitiveness and efficiency levels.
He said the commissioning of the plant will be exploited to tackle emerging challenges such as the Covid-19 pandemic.
"This is a product that is viable. This plant provides medical gas products which your (Constantino Chiwenga) ministry (of Health) has been importing. Dont' delay to certify this product," said Mnangagwa.
The liquid nitrogen produced by Verify Engineering has a 99.6% purity level, which is above the 95% administered in hospitals.
Liquid nitrogen is used as coolant to store medicines and vaccines while medicinal oxygen is used during life support among others.
"Its provision is even more critical in the context of the on-going pandemic which requires steady and consistent medical supply to ensure that patients who need it have access to it at affordable cost," he said.
In terms of agriculture, Mnangagwa said "my government made a deliberate decision to increase our national capacities with regards to aquaculture."
He is banking on the oxygen gas produced by Verify Engineering to boost fish yields, "thereby improving the viability or sensibility of fish farming as a business."
Liquid nitrogen is also expected to help in the maintenance and calibration of various farming equipment that were reducing the downtime for farmers.
The agriculture sector also uses liquid nitrogen to store biological materials used in artificial insemination in the livestock industry.
Mnangagwa said the country will be able to cut its huge import bill as government will scrap the importation of the products as it was now locally produced.