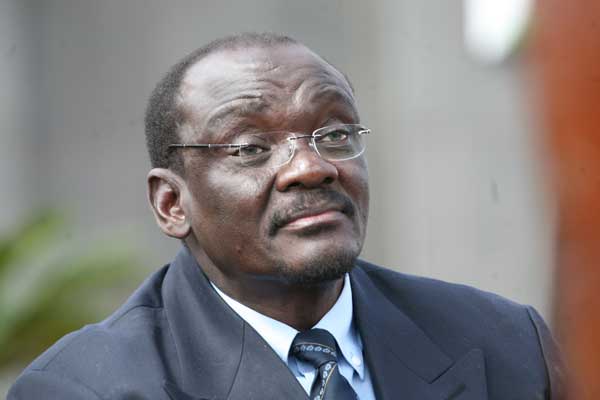 Sydney Kawadza and Cynthia Chitombi
Former vice president Kembo Mohadi's shock resignation, a precedence within Zimbabwe's presidium, has attracted attention to the Zanu-PF power politics with analysts pointing to the party's factional battles.
He becomes the second leader to resign from cabinet after former Industry and International Trade minister Nkosana Moyo ditched ex-President Mugabe's administration in a huff in 2001.
Mohadi tendered his resignation on Monday following a tumultuous week in which he attracted headlines for bedding various women.
A number of his alleged phone recordings had leaked to the media.
It was also reported that Mohadi was a victim of a government sting operations after complains reached his colleagues on his sexual shenanigans.
Mohadi, however, vowed to take vengeance on political foes who allegedly orchestrated his demise.
He said he wanted time away from public life to deal with his problems out of the governance chair.
The former VP said he needed space to deal with problems outside the "governance chair" adding that his decision was not "a matter of cowardice" but respect to the office of the President.
Rumours had swelled that Mohadi was posed to resign but later claimed that he had been a victim of voice cloning, information distortion and political sabotage.
He, however, dismissed the allegations claiming to be "a victim of information distortion, voice cloning, sponsored spooking and political sabotage".
Mohadi also claimed that the "digital media, in their hybridity, have been abused by my enemies to blackmail me."
Twitter character, Jamwanda, rumoured to be presidential spokesperson George Charamba, said Mohadi tendered his resignation to President Mnangagwa in Harare last week.
"Contrary to dominant narratives in the media, , former Vice President K.C.D. Mohadi, handed in his resignation letter to the appointing authority, His Excellency the President, Cde ED Mnangagwa, A WEEK AGO. Let history record this statement of fact," he said.
Meanwhile, analysts and commentators on Tuesday called on Zimbabweans to look beyond Mohadi's resignation arguing that the former Vice President was a victim of Zanu-PF power politics.
The resignation also attracted a lot of attention even from the opposition parties while many observers also queried the sources of the audios that exposed Mohadi.
There was also plaudits for journalists who exposed the former vice president with credit towards the courage shown in exposing his shenanigans.
However, analysts also warned journalist against being drawn in Zanu-PF factional fights that could have led to Mohadi's resignation.
The opposition has also been drawn into the debacle with MDC Alliance spokesperson Fadzai Mahere saying Mohadi's demise signified the rot within government.
"Political power must be used to serve the people – not to abuse women, loot state resources or violate human rights. Mohadi is a cog in a larger system that must be dismantled. All corruption and maladministration must be challenged tenaciously until we win Zimbabwe for change," she said.
She said while Mohadi had to resign there was, however, bigger problems at play in government.
"How can the country's intelligence organisation hack the Vice President's phone and leak info to the media? That's crime and a threat to National Security. A country with no rule of law is a danger to citizens."
Her counterpart David Coltart applauded the media for exposing Mohadi.
"Whilst I applaud the journalism which led to VP Mohadi's resignation let us not get ahead of ourselves. This only happened, the tapes only leaked, because it was in the interest of some to do so. There's a political power play at hand and we need to learn the lessons of November 17."
Firebrand independent legislator Temba Mliswa targeted his guns on bigwigs involved in similar cases.
"If what I'm hearing is true and VP Mohadi has resigned, what precedence does this set? If alleged immorality affects a single man so drastically, what's going to happen to the married Govt Ministers and MPs engaged in such illicit affairs? Will they resign too?"
Transform Zimbabwe president Jacob Ngarivhume added: "We welcome Mohadi's resignation and hope this is the first of many as more evidence of Zanu PF impropriety is released."
However, analyst Rashweat Mukundu dismissed Mohadi's resignation as any form of moral integrity in government or the ruling Zanu-PF party adding that the move was rather a continuation of factional fights in Zanu PF.
"It's not an indication of any moral integrity within the ruling party and the government as many of his fellow party leaders have many scandals, some which could even be worse than what Kembo Mohadi has done."
He noted Vice President Constantino's acrimonious divorce case to estranged wife Marry Mubaiwa.
"So to me this is not a standard being set by Zanu-PF but rather the use of sting operations that are led by the intelligence to target political opponents. By political opponents I am talking of the continuing fluidity, factional fights and power re-alignment in Zanu PF post-2017 coup, so we have not seen the end of the shifts in power," Mkundu said.
He also noted that the media in Zimbabwe had come of age in showing courage to report such cases although he called for caution.
"But we also need to be careful that the media is not simply a conveyor belt of the voices, interests and information that serves political interests of certain groups.
"My take here is that the media took an interest in this story because of the nature of the abuse of young government women officials who were working in the vice president's office"
He said considering the repercussions of Mohadi's affairs on married lovers, the media had to play its role in exposing his misdemeanors.
"The media certainly has a role to play but we now need to contextualize these kind of stories – what do they mean in the broader scheme of governance.
"In the broader scheme of leadership with integrity, in the broader scheme of abuse of power, corruption and the social ills that a leadership that lacks integrity brings to the rest of the society."
He further argued that the media should also dig deeper into the implications of such stories on the governance of Zimbabwe.