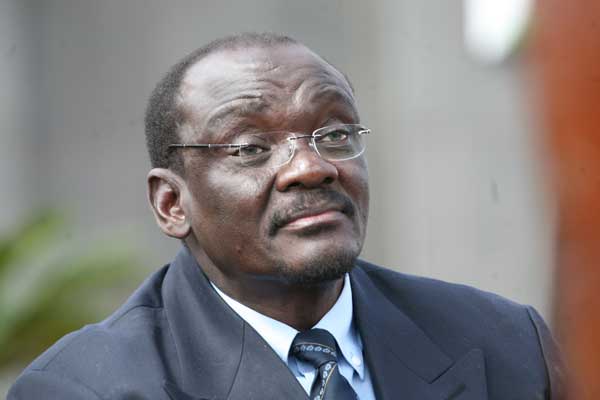 Zimbabwe second Vice President Kembo Mohadi has issued a  warning, vowing to take vengeance on political foes who allegedly orchestrated his demise as he tendered his resignation letter from the public office.
Mohadi, who had been making headlines for bedding different women, said he wanted time away from public life to deal with his problems out of the governance chair.
"I have been going through a soul-searching pilgrimage and realised that I need space to deal with problems outside the governance chair. I have arrived at this decision not as a matter of cowardice but as a sign of demonstrating great respect to the office of the President so that it is not compromised or caricatured by actions that are linked to my challenges as an individual," said Mohadi.
Last week rumours had swelled that Mohadi was posed to resign but later claimed that he had been a victim of voice cloning, information distortion and political sabotage.
"The interconnectivity with social media ecologies have been relaying viral moral panics, peddling flames of lies, creation myths and muddling the reality of my life as a family man.
"I am a victim of information distortion, voice cloning, sponsored spooking and political sabotage. Digital media, in their hybridity, have been abused by my enemies to blackmail me, but my spirit will never die," charged Mohadi in a statement.
He resigned from the office of the Vice President in terms of Section 96(2) of the constitution of Zimbabwe (No. 20) Act, 2013 with immediate effect.
The former minister of state intelligence said he was resigning out of respect for Zimbabweans and to save the image government from the falsehoods and character assassination he had suffered for the past weeks.
"My resignation is also necessitated by my desire to seek clarity and justice on the matter in which my legal team will pursue and deconstruct this pseudo-paparazzi and flawed espionage to cheap political points.
"I promised to poke holes on this grand strategy from political foes," warned Mohadi.
He also expressed gratitude to President Emmerson Mnangagwa and Zanu PF for the support saying the political game had no winners or losers but pilgrims tied to a single garment of destiny.
"I wish the President of Zimbabwe well, as he continues to bear the burden of a struggle to improve lives of Zimbabweans, to rejoice in hope and patience, in tribulation against poverty, Covid-19 and Vision 2030."