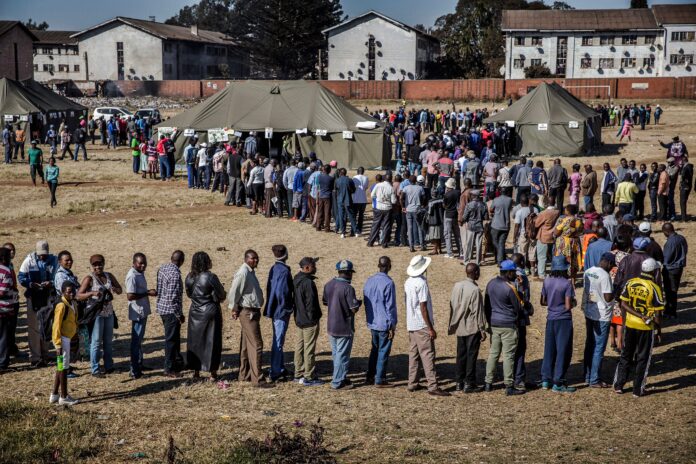 Donald Chakamanga
The MDC Alliance has accused the Zimbabwe Electoral Commission of sidelining other stakeholders in the delimitation prcess that will come up with new constituencies' boundaries ahead of the 2023 Harmonized elections.
According to the MDC-A secretary for elections, ZEC was technically incompetent to hold the delimitation programme without consulting all stakeholders.
He accused ZEC of trying to pull a fast one thereby shrouding the whole process into obscurity.
"While the MDC-Alliance appreciates that the population census has been brought forward to 2021 in order to ensure the delimitation of boundaries for electoral purposes in 2023 and reflecting the geographical spread of our population, the party is however concerned over the lack of direct consultations with key stakeholders on these matters," he said.
Makone also alleged that there was no clarity on the delimitation methodology and the personnel conducting the exercise.
"The MDC Alliance appreciates the mandate of ZEC in carrying out this exercise. However, we also note that delimitation is a highly technical and complex exercise of which that the expertise is not available at ZEC, nor does ZEC have the technical competent human resource to carry out this exercise nationwide," he said.
"It is therefore logical that ZEC informs Stakeholders regarding the personnel conducting this exercise."
The MDC-A further revealed that the Electoral Act remained unaligned to the Constitution.
"We once again call upon the government through the Minister of Justice, Legal and Parliamentary Affairs to cause the alignment of the Electoral Act to the Constitution by bringing the electoral bill to Parliament as a matter of urgency," he said.
The MDC-A, according to Makone, has crafted 20 Principles for Reliable, Inclusive and Credible Elections in Zimbabwe, also known as PRICE, as an election management tool.
"The document catalogues errors of omission and commission in the preparations for and conducts of elections, as well as in the transmission and announcing of electoral results," he said.
In March this year, ZEC announced that it had begun drawing up new National Assembly constituency boundaries that will be used for the 2023 harmonised elections.
It has already started the first phase of the delimitation exercise, which involves updating polling stations and adding new residential areas into the voter registration database ahead of next year's boundary mapping process.
ZEC has also started mobilising $10 billion required for the expansive nationwide exercise, which is carried out after every 10 years.
The delimitation will be undertaken in three phases, starting with a mass voter registration blitz, which has already commenced under Phase One.
Under Phase Two, ZEC will begin marking new constituency boundaries using data obtained under the initial phase.
The second phase will take six months to complete.
Phase Three, which will take a month to complete, will witness the production and distribution of the final delimitation report ahead of the elections.